NFC North - Guide to the off-season
We take a look at how each team is preparing for the new campaign
By Alex Williams
Last Updated: 11/03/13 8:03pm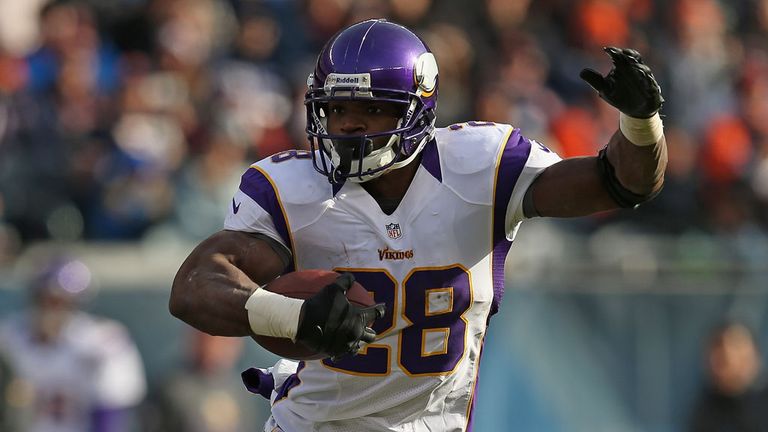 The draft takes place at Radio City Music Hall in New York from April 25-27 and prior to that there are lots of decisions to be made in front offices around the league.
Ahead of the draft, we're taking a division-by-division look at how things are shaping up, this time it's the turn of the NFC North.
Green Bay Packers
Last season: The Packers finished top of the division for the second straight year but like in 2011 they were eliminated in the Divisional round of the play-offs. Although they started out by going 2-3, a run of nine wins in 10 raised hopes prior to the play-off defeat to the San Francisco 49ers.
Coaching changes: Green Bay have decided against making any changes to the coaching team, the majority of which were present for the Packers' Super Bowl victory two years ago. Mike McCarthy returns for his eighth season in charge with Tom Clements, Dom Capers and Shawn Slocum his coordinators on offence, defence and special teams respectively. Only Clements was not in his current position when Green Bay won the Super Bowl.
Unrestricted free agents: RB Cedric Benson, RB Ryan Grant, WR Greg Jennings, LB Brad Jones, LB Erik Walden.
Salary cap: $5.8m under
Strategy: In what could turn out to be a shrewd move, the Packers have not shown much appetite to re-sign big names such as Cedric Benson and Ryan Grant. Former Defensive Player of the Year Charles Woodson has already been cut while receiver Donald Driver and centre Jeff Saturday have retired. Cornerback Sam Shields, who enjoyed a fine season in 2012, is a restricted free agent and could be rewarded with a new contract. The Packers are traditionally one of the better teams at drafting and developing talent, but the amount of starters they are losing mean they could be forced to look at the free agency market this year if they are to remain one of the elite teams in 2013.
Draft: The Packers do not have any trade commitments involving this year's picks and will select either 26th or 25th in each of the seven rounds.
Minnesota Vikings
Last season: After many predicted them to occupy the NFC North basement, Minnesota defied the odds to qualify for the play-offs following a remarkable season from league MVP Adrian Peterson. They could not make it past the first round of the post-season, however, as they lost to the Packers.
Coaching changes: Leslie Frazier returns for a third full season as head coach following last year's breakthrough campaign. His coordinators are also the same, with Bill Musgrave in charge of the offence, Alan Williams running the defence and Mike Priefer on special teams. The front office also remains in situ as the Vikings try and to use the same formula for success as last year.
Unrestricted free agents: WR Devin Aromashodu, OL Joe Berger, LB Jasper Brinkley, RB Jerome Felton, LB Erin Henderson, OL Phil Loadholt, LB Marvin Mitchell, S Jamarca Sanford, OL Geoff Schwartz, WR Jerome Simpson.
Salary cap: $12.3m under
Strategy: Minnesota have two wide receivers set to hit free agency, while Percy Harvin is reportedly on the verge of being traded. It would therefore seem paramount that the Vikings bring in at least one wideout during the off-season, either through the draft, free agency (they have cap room to play with) or both. Two of the three starting linebackers - Jasper Brinkley and Erin Henderson - are also free agents, leaving the Vikings with another position they need to reinforce. Minnesota will also hope for some progression from third-year quarterback Christian Ponder as it is unreasonable to expect Peterson to carry the offence again.
Draft: The Vikings have one pick in each of the first three rounds but are stockpiled with selections later on, owning two in both the fourth and seventh.
Chicago Bears
Last season: After a 7-1 start inspired by some spectacular defensive play, the Bears slipped to a final record of 10-6 and missed out on the play-offs on the final day.
Coaching changes: Failure to reach the play-offs for the second straight year cost head coach Lovie Smith his job after nine seasons in charge, with the whole of the offensive coaching staff as well as defensive and special teams coordinators Rod Marinelli and Dave Toub following him through the exit door. Marc Trestman comes in from the Montreal Alouettes of the Canadian Football League as an imaginative replacement for Smith. Aaron Kromer switches from the Saints to become offensive coordinator, Mel Tucker moves from Jacksonville to take over the defence and Joe DeCamillis is now in charge of special teams.
Unrestricted free agents: RB Kahlil Bell, CB Zack Bowman, QB Jason Campbell, CB Kelvin Hayden, LB Geno Hayes, DE Israel Idonije, OL Lance Louis, K Olindo Mare, QB Josh McCown, CB DJ Moore, S Troy Nolan, DT Amobi Okoye, OL Chilo Rachal, LB Nick Roach, OL Jonathan Scott, OL Chris Spencer, LB Brian Urlacher,
Salary cap: $10.1m under
Strategy: The Bears will be keen to bolster an offensive line which has not been up to scratch for a number of seasons and has contributed to quarterback Jay Cutler's injury problems. The likes of Jake Long, Sebastian Vollmer and Andre Smith are set to hit the free agency market, but Chicago may opt to build their trenches through the draft. Defensive tackle Henry Melton was a standout last year and has been given the franchise tag, while there is a big decision to be made about the future of legendary linebacker Brian Urlacher, who is out of contract. Receiver Johnny Knox has unfortunately had to retire following his horror back injury at the end of 2011, with Alshon Jeffery expected to step up in his second year.
Draft: The Bears do not have a pick in the third round due to their trade with the Dolphins for Brandon Marshall but will select 20th in every other round bar the seventh, where they have no pick either.
Detroit Lions
Last season: The Lions were tipped to be Super Bowl contenders in 2012 but their season quickly unravelled and they eventually finished rock bottom of the NFC North with a 4-12 record. Calvin Johnson's successful chase of Jerry Rice's record for receiving yards in a season was the lone highlight.
Coaching changes: Despite the woes of last season, Detroit has kept faith with the same set of coaches. Jim Schwartz is back as head coach, although another failure to reach the play-offs would surely see him come under pressure. Scott Linehan is the offensive coordinator and Gunther Cunningham takes charge of the defence. Danny Crossman becomes the new special team coordinator.
Unrestricted free agents: DE Cliff Avril, OL Gosder Cherilus, S Louis Delmas, LB Justin Durant, CB Drayton Florence, DT Andre Fluellen, OL Dylan Gandy, K Jason Hanson, P Nick Harris, RB Jerome Harrison, TE Will Heller, DT Sammie Lee Hill, CB Chris Houston, DE Lawrence Jackson, CB Jacob Lacey, CB Patrick Lee, WR Stefan Logan, OL Don Muhlbach, WR Kassim Osgood, RB Kevin Smith, DT Corey Williams.
Salary cap: $3m under
Strategy: Although they are under the cap for now, the Lions are due to go well over it in the coming years and so their spending may be restricted somewhat from hereon. It may be hard to re-sign Cliff Avril and with fellow defensive end Kyle Vanden Bosch being cut, the need to recruit a pass rusher is clear. Titus Young has been released, meaning another wide receiver will also be sought after. With injury-hit safety Louis Delmas and cornerback Chris Houston also due to hit free agency, the defensive backfield will also need some reinforcements.
Draft: The Lions possess the fifth overall pick, which they could use on a cornerback such as Dee Milliner or pass rusher like Dion Jordan. They have selections towards the top of every round except the fourth, so are well placed to fill the many holes on their roster.
Salary cap figures from NFL's official website