NFC South - Guide to the off-season
We take a look at how each team is preparing for the new campaign
By Alex Williams
Last Updated: 12/03/13 3:02pm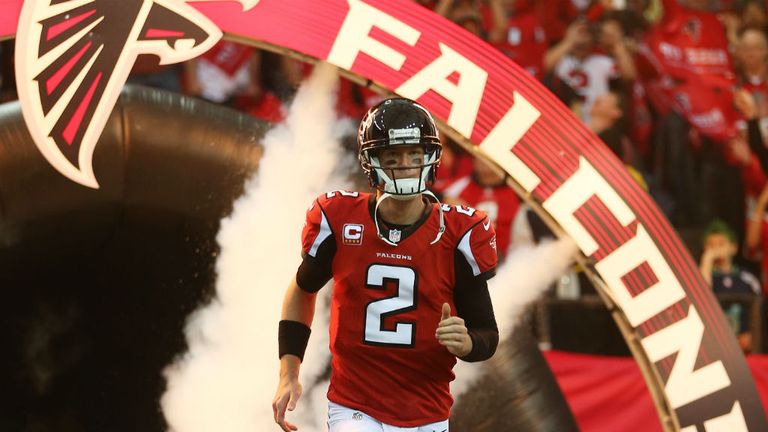 The draft takes place at Radio City Music Hall in New York from April 25-27 and prior to that there are lots of decisions to be made in front offices around the league.
Ahead of the draft, we're taking a division-by-division look at how things are shaping up, this time it's the turn of the NFC South.
Atlanta Falcons
Last season: The Mike Smith-Matt Ryan era broke new ground in 2012 as the coach-quarterback tandem managed to win their first play-off game with Atlanta. The Falcons also posted the joint-best regular-season record in the NFL at 13-3 but the campaign ultimately ended in a narrow loss at home to the San Francisco 49ers in the NFC Championship game.
Coaching changes: Unsurprisingly after such a successful season, Atlanta have opted for continuity in the coaching staff. Smith is now entering his sixth season in charge, while offensive coordinator Dirk Koetter and defensive coordinator Mike Nolan both return for a second year in their respective positions.
Unrestricted free agents: OL Sam Baker, RB Mike Cox, TE Tony Gonzalez, CB Brent Grimes, S Chris Hope, OL Todd McClure, QB Luke McCown, S William Moore, CB Chris Owens, LB Mike Peterson, OL Garrett Reynolds, DE Lawrence Sidbury, OL Will Svitek, DT Vance Walker.
Strategy: The Falcons are keen to move on despite their recent success and have already cut ageing starters Michael Turner, Dunta Robinson and John Abraham. The release of Abraham and the fact Atlanta tallied just 29 sacks last year means the pass rush will have to be seriously bolstered, either through free agency or the draft. With Turner also gone, the Falcons will need to find a new workhorse in the backfield, although running backs are easier commodities to acquire than defensive ends in today's NFL, meaning the latter position will likely be Atlanta's major priority. Legendary tight end Tony Gonzalez is a free agent, but could be re-signed as he was an effective operator last year.
Draft: Only the two Super Bowl teams are lower in the draft order than Atlanta, meaning the Falcons will pick 30th in each round. It may be hard to find instant starters with those positions but the likes of defensive ends Alex Okafor and Margus Hunt may still be available.
Carolina Panthers
Last season: Carolina started out by going 3-9 as quarterback Cam Newton struggled through a sophomore slump, but four straight wins at the end of the season left them a respectable second in the NFC South.
Coaching changes: Ron Rivera avoided a potential firing with the winning run at the end of 2012 and returns for his third season as head coach. Offensive coordinator Rob Chudzinski left to become head coach of the Browns, with Mike Shula promoted from quarterbacks coach to take charge of the offence. Sean McDermott is still coordinating the defence while Richard Rodgers controls special teams. In the front office, Marty Hurney was fired as general manager with Dave Gettleman taking his place.
Unrestricted free agents: QB Derek Anderson, DE Antwan Applewhite, TE Gary Barnidge, DT Dwan Edwards, TE Ben Hartsock, S Sherrod Martin, CB Captain Munnerlyn, WR Louis Murphy, LB Jason Phillips, OL Mike Pollak, LB Jordan Senn.
Strategy: The Panthers have paid over the odds to re-sign talent in the past, meaning they were projected to be well over the salary cap for 2013. The running back duo of DeAngelo Williams and Jonathan Stewart may be retained despite eating away at the cap number, meaning cuts could have to be made elsewhere. Two areas which need improvement are the defensive backfield and interior of the defensive line. With their cap situation, the recruitments are likely to come via the draft or some of the lower-profile free agents.
Draft: The Panthers will pick in the middle of each round except the third and seventh, having traded those selections away. The likes of cornerback Xavier Rhodes or defensive tackle Sheldon Richardson could be available when Carolina are on the clock in the first round
New Orleans Saints
Last season: With head coach Sean Payton and several players sidelined for some or all of the campaign due to the Bountygate scandal, the 2012 season was effectively a write-off for the Saints. New Orleans lost their first four games before recovering to finish 7-9, missing the play-offs.
Coaching changes: Following Joe Vitt's stint as interim coach last year, Payton returns to the sideline fresh off a five-year contract extension. The Saints had statistically the worst defence in NFL history last season and coordinator Steve Spagnuolo was fired after just a year in the position. He is replaced by Rob Ryan, who will bring in the 3-4 defence, while Pete Carmichael Jr is once again in charge of the offence and Greg McMahon returns as special teams coordinator.
Unrestricted free agents: OL Jermon Bushrod, LB Jonathan Casillas, QB Chase Daniel, DT Sedrick Ellis, WR Devery Henderson, LB Ramon Humber, CB Elbert Mack, DE Turk McBride, OL Will Robinson, WR Courtney Roby, LB Scott Shanle.
Strategy: The Saints were struggling with the salary cap prior to the official start of the season and their situation is not helped by Drew Brees' large cap number as he enters the second season of a five-year, $100m deal. The cap restrictions mean they may not be able to re-sign left tackle Jermon Bushrod and defensive tackle Sedrick Ellis. Filling their many holes on defence will be a tough task for the Saints given the lack of room for any significant spending, making the draft ever more important for them.
Draft: After having no picks in the first two rounds last year, the Saints will be able to select 15th overall this April, where they are likely to go defensive line, safety or cornerback. The Bountygate ramifications still linger with the Saints' second rounder being taken away, leaving New Orleans three further picks in rounds three-six.
Tampa Bay Buccaneers
Last season: Tampa Bay's 2012 campaign can be split into three distinct phases: a poor 2-4 start, a run of four straight wins which put them in play-off contention, and a late season collapse of five defeats in six. Ultimately, they posted a 7-9 record to finish on terms with Carolina and New Orleans.
Coaching changes: The Bucs cleared the coaching house at the end of 2011 and saw some signs of encouragement in the first year of the new set up, meaning no major changes have been made. Greg Schiano returns as head coach, with Mike Sullivan his offensive coordinator and Bill Sheridan taking care of the defensive side of things. The only notable change sees the ultra-experienced Dave Wannstedt brought in as special teams coordinator following Bob Ligashesky's departure.
Unrestricted free agents: CB Ronde Barber, DE Michael Bennett, CB EJ Biggers, TE Dallas Clark, OL Andrew Economos, CB Brandon McDonald, DT Roy Miller, WR Roscoe Parrish, WR Sammie Stroughter, OL Jeremy Trueblood.
Strategy: Tampa Bay have plenty of cap room to play with so should be able to match any big-money offer for defensive end Michael Bennett, who is set to hit the free agent market. But cornerback is the most obvious need with Aqib Talib being traded last year, Ronde Barber and EJ Biggers becoming free agents and rumours swirling that Eric Wright will be cut. Keenan Lewis, DeAngelo Hall and Nnamdi Asomugha are three of the free agents who could be targeted. The Bucs could also do with a new tight end for quarterback Josh Freeman as Dallas Clark is out of contract.
Draft: Tampa Bay have a pick in the middle of each round and have and have an additional pick in the fourth, which they could use as trade bait if they want to move up and secure a top cornerback prospect such as Dee Milliner or Xavier Rhodes.