AFC East - Guide to the off-season
We take a look at how each team is preparing for the new campaign
By Alex Williams
Last Updated: 19/03/13 2:44pm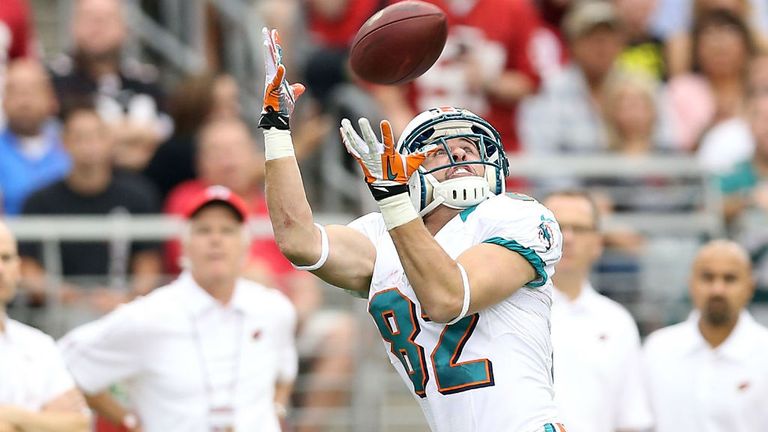 The draft takes place at Radio City Music Hall in New York from April 25-27 and prior to that there are lots of decisions to be made in front offices around the league.
Ahead of the draft, we're taking a division-by-division look at how things are shaping up, this time it's the turn of the AFC East.
New England Patriots
Last season: The Patriots took their customary spot at the top of the division and as usual qualified for the play-offs. However, they suffered a shock loss to eventual Super Bowl winners Baltimore in the AFC Championship Game, meaning they have now gone eight years without an NFL title.
Coaching changes: New England have once again seen no reason to change their coaching staff. Bill Belichick embarks on his 14th season at the helm with Josh McDaniels, who led the Patriots to the third-highest scoring season in NFL history last year, his offensive coordinator. Matt Patricia is still in charge of the defence and Scott O'Brien returns as special teams coordinator.
Unrestricted free agents: CB Will Allen, S Josh Barrett, DE Ron Brace, WR Deion Branch, S Patrick Chung*, CB Marquice Cole, WR Julian Edelman, RB Tony Fiammetta, S Derrick Martin, DT Myron Pryor, OL Jamey Richard, DE Trevor Scott, OL Donald Thomas*, OL Sebastian Vollmer, OL Brian Waters, WR Wes Welker*, LB Tracy White, RB Danny Woodhead*.
Strategy: Star quarterback Tom Brady has opted for a downsized contract in order to free up salary cap space, but that could not stop trusted receiver We Welker from jumping ship to the Broncos. New England responded by signing Danny Amendola but more wideouts could be sought through the draft. The other obvious area needing improvement is the defensive backfield, even though Aqib Talib has re-signed. Right tackle Sebastian Vollmer is out of contract and the Patriots will also be keen to re-sign him.
Draft: The Patriots will pick towards the end of the first three rounds but then have no selections in the fourth, fifth or sixth rounds. They have two picks in the seventh round. The likes of receivers Cordarrelle Patterson or Tavon Austin could be early targets for Belichick.
Miami Dolphins
Last season: Under the guidance of first-year head coach Joe Philbin and rookie quarterback Ryan Tannehill, the Dolphins posted a respectable 7-9 record in an encouraging start to a new era at Sun Life Stadium.
Coaching changes: Miami overhauled their coaching staff at the end of the 2011 season so give the current set-up another year to press on with the rebuilding process. Philbin returns for his second year, with Mike Sherman the offensive coordinator, Kevin Coyle in charge of the defence and Darren Rizzi controlling special teams.
Unrestricted free agents: RB Reggie Bush*, TE Anthony Fasano*, OL Nate Garner, K Nate Kaeding, OL Jake Long*, DT Tony McDaniel, CB Sean Smith*.
Strategy: With plenty of room on the salary cap, the Dolphins have been one of the more aggressive teams in free agency. Mike Wallace has been snapped up with fellow receiver Brian Hatline being re-signed. Philip Wheeler and Dannell Ellerbe have been recruited to boost the linebacking corps, while defensive tackle Randy Starks has been given the franchise tag. Star offensive tackle Jake Long has gone to the Rams, however, and a replacement will be needed. With Reggie Bush heading to the Lions and Sean Smith to the Chiefs, running back and cornerback will also need to be looked at.
Draft: The Dolphins will pick 12th overall and have two picks in both the second and third rounds, which they could use to trade up for a cornerback like Dee Milliner. Running back Eddie Lacy could also be a target. They have one pick in round five, none in round six and two in round seven.
New York Jets
Last season: After reaching the AFC Championship game at the end of the 2009 and 2010 seasons, the Jets have now failed to qualify for the play-offs for two years in a row. The 2012 campaign was the worst since the combination of head coach Rex Ryan and quarterback Mark Sanchez came to town, with the 6-10 record only good enough for third in the division.
Coaching changes: Ryan has survived with his job intact but several changes have been made around him. Tony Sparano lasted only one season as offensive co-ordinator and has been replaced by former Eagles stalwart Marty Mornhinweg. Dennis Thurman comes in for Mike Pettine as defensive coordinator, while Ben Kotwica is now in charge of special teams. In the front office, Mike Tannenbaum has been fired as general manager and replaced by John Idzik.
Unrestricted free agents: TE Yeremiah Bell*, DE Mike DeVito*, WR Braylon Edwards, RB Shonn Greene*, TE Dustin Keller*, S LaRon Landry*, OL Brandon Moore, WR Chaz Schilens, OL Matt Slauson, LB Bryan Thomas.
Strategy: The Jets were well over the cap before the start of free agency and have had to release the likes of linebackers Bart Scott and Calvin Pace. Other starters to leave include LaRon Landry, Dustin Keller, Mike DeVito and Shonn Greene. Offensive lineman Brandon Moore and Matt Slauson are free agents, although their potential departures have been offset by the arrival of Willie Colon. Quarterback Mark Sanchez endured a terrible season in 2012 but cutting him would have incurred a massive cap hit, so veteran signal-caller David Garrard has been brought in to compete with him.
Draft: With the roster being stripped down due to the salary cap situation, the Jets will have to rebuild through the draft. They have the ninth overall selection, which they may well use on a pass-rushing linebacker such as Jarvis Jones or Dion Jordan. With one selection in every remaining round, the Jets may also draft a project quarterback as a contingency plan should Sanchez's struggles continue.
Buffalo Bills
Last season: Buffalo's recent misery continued in 2012 as they finished bottom of the AFC East for the fifth straight season. The Bills have not posted a winning record since 2004 and have not qualified for the play-offs since 1999.
Coaching changes: Another disappointing season led to head coach Chan Gailey being fired after three seasons at the helm. Former Syracuse University boss and Saints offensive coordinator Doug Marrone takes his place. It is also all-change at coordinator level, with Nathaniel Hackett, Mike Pettine and Danny Crossman the new men in charge of offence, defence and special teams respectively.
Unrestricted free agents: RB Tashard Choice, DE Spencer Johnson, WR Donald Jones*, OL Andy Levitre*, WR Ruvell Martin, RB Corey McIntyre, DE Kyle Moore, LB Kirk Morrison, WR David Nelson, OL Chad Rinehart*, QB Tyler Thigpen.
Strategy: Barely one year after signing a big-money, six-year contract, starting quarterback Ryan Fitzpatrick was released following a poor season, so Buffalo will be on the lookout for a franchise signal-caller. Safety Jairus Byrd will return after he was given the franchise tag, but guard Andy Levitre left to the Titans via free agency. A thin linebacking corps has been boosted by the signing of Manny Lawson, with Nick Barnett being cut.
Draft: The Bills have the eighth overall pick, which they will surely use on a quarterback such as Geno Smith or Matt Barkley. They will use the rest of the draft (they have a pick in every round except the seventh) to try and fill out the rest of the roster.
*Player has already signed with another team