NFL Power Rankings 15: Simon Veness ranks the gridiron teams
Simon Veness surveys the carnage in his rankings after a series of upsets in the NFL this week.
Last Updated: 17/12/13 12:21pm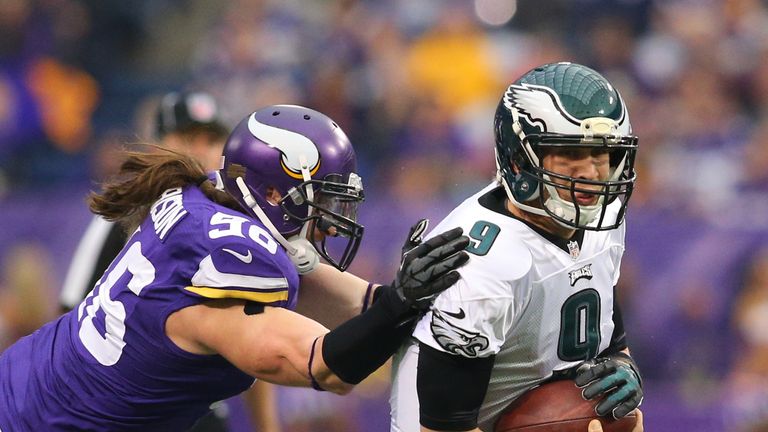 Each week Simon Veness runs the rule over all 32 teams to decide if they are Champions League material, Premier League, Championship quality or down among the Conference dead men, with 'relegation' and 'promotion' between the four divisions.
And, this week, it was carnage among our Elite Eight, with FOUR of them losing - and new hope for Green Bay, Miami, Arizona, San Diego and even Pittsburgh. I can hardly credit what my eyes saw, all across the board, so let's just get straight to it...
Champions League - The Elite Eight
1. Seattle (no change): Quick, name the most successful quarterback in his first two years in the league. Marino? Montana? Aikman? Young? Bradshaw? Brady? Nope, times six. Try Russell Wilson, who now has 23 wins in his first 30 games, most of the Super Bowl era.
2. San Francisco (up 2): It's inevitable, isn't it? The best two in the NFC West are also the best two in the NFL. And they are heading for a third-game decider of the season, winner takes all, at the Den of Din that is CenturyLink Field in the NFC Championship game.
3. Carolina (up 2): I wonder if the Jets' Santonio Holmes still thinks the Panthers' secondary is their "weakest link" after two catches for 14 miserable yards in Charlotte, where Ron Rivera's men are unbeaten since a 12-7 reverse to Seattle on the opening weekend of the season?
4. Denver (down 2): They may still be on course for the AFC's top seeding, but it's only because no-one else in the Conference seems to want it. They should still waltz to a 13-3 record, but a home defeat by a gritty Chargers outfit has shown the Broncos have an Achilles heel the size of BJ Raji's leg.
5. New Orleans (down 2): Here's the Saints' overall record in the past THREE years - wins in domed stadiums, 24; wins outside, 7. And guess what - there are no indoor arenas in Seattle, San Francisco and Carolina (or even Philadelphia and Chicago, if it comes to that).
6. Kansas City (up 2): Jamaal Charles had eight catches for 195 yards and four receiving touchdowns at Oakland on Sunday. For some running backs, that's a good SEASON let alone a good game.
7. New England (down 1): For some reason, I'm reminded of the Wizard of Oz with these Patriots right now. Their smoke-and-mirrors act is being found out without The Gronk and even Tom Brady is looking more irritable than the Wicked Witch of the West faced with a bucket of water.
8. Chicago (PROMOTED - up 4): Jay played more like Horace Cutler (GLC leader in the 1970s, kids) for much of the first half in Cleveland but was back in full slice-and-dice mode by the end, with two key touchdowns in the fourth quarter with the game on the line.
Premier League - The Play-Off Hopefuls
9. Philadelphia (RELEGATED - down 2): How bad was their performance at Minnesota? The Vikings were already eliminated from the play-offs, they were without their top two running backs, their top two tight ends, their starting right guard and their top THREE cornerbacks due to injuries. The Eagles had all 53 of their regular roster fit.
10. Cincinnati (down 1): Marv Lewis has to hope that first-half no-show at Pittsburgh (the Bengals trailed 24-0 after little more than 20 minutes) was a complete aberration with the games to come, at home to the never-say-die Vikings and division rivals Baltimore.
11. Baltimore (down 1): Relying on 248-yards worth of field goals from the human metronome kicker that is Justin Tucker is no recipe for long-term success. But if they can persuade the opposing quarterback to toss them three interceptions a game, who knows?
12. Arizona (no change): For some reason, Tennessee opted not to go for two - and the win - from the one-yard line (following a penalty) after scoring twice in the final three minutes and piling up 141 yards against the reeling Cardinals. And Arizona promptly won a harem-scarem contest in overtime. Cue a big sigh of relief back in Phoenix.
13. Miami (up 1): Whoever thought the Dolphins would fold up in the wake of the Jonathan Martin 'Bully-gate' scandal in south Florida (um, that would be me) was obviously WAY off the mark. Miami are 5-2 since then and just ended a seven-game losing skid to the Patriots.
14. Indianapolis (up 1): The Colts may just be the most consistent team in the NFL. How's that? They have now gone 29 games without back-to-back losses, which says a lot about the resilience of Chuck Pagano's men, which they will need for the play-offs.
15. San Diego (PROMOTED - up 2): You know the most remarkable thing about the Chargers' feisty win in Denver? Quarterback Philip Rivers' rattlesnake-skin cowboy boots, which he sported for the post-game interview. With style like that, how can they NOT give everyone a run for their money?
16. Green Bay (PROMOTED - up 4): No, they couldn't, could they? They could you know. Just a half-game behind division leaders Chicago, with the possibility of Aaron Rodgers returning, and a final game at the Bears. The NFC North may be the Division No-One Wants To Win but they sure know how to pile on the drama.
Championship - The Play-Off Hopeless
17. Pittsburgh (up 2): Antonio Brown is quietly on course for 110 catches and 1,500 receiving yards this season, which would be behind only Calvin Johnson and Josh Gordon in yards and Andre Johnson and Pierre Garcon in catches. And the Steelers' O-line has (again) been a patchwork quilt. How much could he achieve with Big Ben working behind a solid line?
18. Detroit (RELEGATED - down 5): Hard to know which was the more costly - Matt Stafford's three interceptions or Calvin Johnson's three out-and-out drops. Either way, the Lions' big two added up to a big fat zero in real terms at home to Baltimore and, from having a stranglehold on the division two weeks ago, it is barely a finger-pinch right now.
19. Dallas (RELEGATED - down 3): There are a million stats that could tell you just how bad the Cowboys were in losing at home to Green Bay from 26-3 up at half-time, including that two back-up quarterbacks (Josh McCown and Matt Flynn) have just strafed the Dallas secondary for four passing touchdowns. My favourite? The 'Boys are only 1-2 when scoring 35 or more points this season. The rest of the league is 51-2.
20. St Louis (PROMOTED - up 6): It's either feast of famine with the Rams. Their six wins have been by an average of 17.3pts, but their eight defeats have been by an average of 14. That's a wild pendulum Jeff Fisher has to stop swinging.
21. Minnesota (up 3): The Vikings have now played four play-off contenders in a row and lost only once despite an injury list that would fill a hospital. Leslie Frazier certainly cannot complain his men aren't playing hard right to the end.
22. Tampa (down 4): Playing the 49ers is tough enough at the best of times, but when you hand them seven points with possibly the worst trick play-off return in history, you are asking for a 4-12 season.
23. Tennessee (down 1): The fact so many fancied teams lost this week kind of obscures the 19th defeat of the Mike Munchak era (2012-201?). But it was also the WAY they lost, in overtime at home to Arizona, that suggests there is a lack of ambition in Nashville.
24. NY Giants (down 2): While the Vikings are the epitome of a team NOT mailing it in, there are these Giants. Eli Manning is on course for a career-high 28 interceptions and his worst quarterback rating since his rookie season, but singling him out is like highlighting one rock in a landslide - the whole team is going downhill, fast.
Conference - Down Among The Dead Men
25. NY Jets (no change): If Geno Smith doesn't throw his 21st interception of the season in the fourth quarter, the Jets might have proved more of a handful for the Panthers. And, yes, that means New York quarterbacks have combined for an incredible 46 INTs so far this season. Is it something in the Big Apple air this year? If so, it's a bad omen for the Super Bowl!
26. Buffalo (up 3): The education of EJ Manuel continues. After the worst performance of his rookie year last week, he comes away with his first road win in five attempts. And, at the end of the year, it won't matter that it was against Emergency Ward Jags.
27. Atlanta (up 1): A win's a win, hey, even when it comes thanks to the opposition failing with a two-point conversion attempt at the death? After this season, Mike Smith will take anything that comes his way.
28. Jacksonville (RELEGATED - down 5): These must feel like the unluckiest cats out there at the moment. In the home defeat by Manuel and Co, the Jags were without leading rusher Maurice Jones-Drew, leading receiver Cecil Shorts (with Justin Blackmon still suspended), and left guard Will Rackley, while his back-up Mike Brewster broke his left ankle in the first half. That's a REAL reason to lose, you might tell the Giants.
29. Cleveland (down 1): It's tough to be a fan in Cleveland. That's six straight seasons of at least 10 losses for the Browns. And the Cavaliers aren't much better, either.
30. Oakland (down 1): If there weren't two teams that have become a COMPLETE shambles this season, we'd be talking about the Raiders' record home defeat in terms of Dennis Allen's job security. As it is, he may need at least one more win to return in 2014.
31. Washington (no change): If there has been a more dysfunctional team, off the field, in recent years, Redskins fans would like to meet them, if only to take their minds off the crazy world of Mike Shanahan. In DC, it is only a question of when, not if, the head coach gets the sack.
32. Houston (no change): How bad were the Texans? The Colts were without two starting offensive lineman, lost another during the game and had starting running back Donald Brown KO'd before half-time. And Indy still strolled it 25-3. Even worse for Houston and their 12-game losing streak - Trent Richardson, averaging barely 30 yards per game, rumbled for a season's best 64.