NFL Preview: Sky Sports preview the AFC North battle this coming season
The Super Bowl champions have had major upheaval this summer so can they hang on to their title?
Last Updated: 02/09/13 7:24pm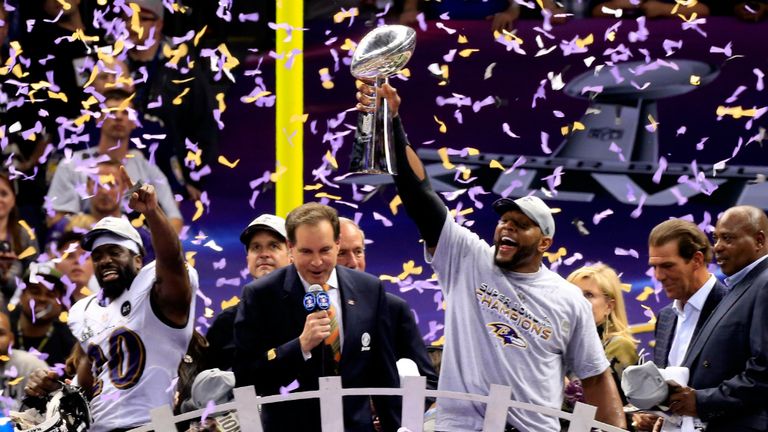 Ray Lewis and Ed Reed have gone, but Joe Flacco and Ray Rice remain so much will depend on how John Harbaugh can mould his new defensive reinforcements.
Cincinnati will have to deal with the rare pressure of expectation this season after back-to-back play-off appearances and how they deal with that will be key - while the Steelers don't seem to have improved dramatically from last year so will be up against it, as will the Browns.
Let's take a look at how we see things shaping up in the AFC North this season...
BALTIMORE RAVENS (10-6)
Ins: DE Chris Canty, TE Dallas Clark, LB Elvis Dumervil, S Michael Huff, LBDaryl Smith, DE Marcus Spears, WR Brandon Stokley.
Outs: WE Anquan Boldin, LB Ray Lewis, S Ed Reed, LB Dannell Ellerbe, LB Paul Kruger, C Matt Birk, S Bernard Pollard, NT Ma'ake Kemoeatu, CB Cary Williams.
Star Man: Joe Flacco - Obvious, but it's a fact. Flacco still had doubts surrounding him up until his brilliant play-off performances but now he has to do it in a full season and also has to pick up the mantle of team leader following Ray Lewis' departure to justify his whopping new contract.
Outlook: Losing the backbone of their defence will be a massive loss, but the Ravens always draft well and many believe they could eventually be stronger than what in truth was an ageing unit last season, but they will need to gel quickly as every game is a big game for the defending champions in the NFL.
Boldin starred in the play-offs before leaving, such is the business side of things in this league, but he was also getting on in years and perhaps a bigger blow for Flacco is the loss of tight end Denis Pitta through injury, meaning Ray Rice may have to produce even more in the receiving game. They should still have enough for a sixth consecutive post-season but could find winning the division a tough task.
CINCINNATI BENGALS (10-6)
Ins: LB James Harrison, TE Alex Smith, TE Tyler Eifert, RB Giovani Bernard
Outs: QB Bruce Gradkowski.
Star Man: AJ Green - QB Andy Dalton may be under the most pressure to perform in the big games but Green is the star of the show - the receiver is one of the best in league after grabbing 11TDs and 1,350 yards last season, he could eclipse those totals this year.
Outlook: Gradually over the last couple of years the Bengals have been improving and now suddenly reaching the play-offs for a third straight year is not enough, with many picking them to top this tough division. Again in the draft they look to have improved, and after finishing with the same record as the Ravens last year you can see why they are fancied.
Cincy have a rock-solid defence, rookie Giovani Bernard will enhance the running game with BenJarvus Green-Ellis and in AJ Green they have one of the league's elite receivers - the only question mark is QB Andy Dalton who has been awful in two play-off loss to Houston in two years, he needs to step up in the big games to get this team over that hump.
PITTSBURGH STEELERS (8-8)
Ins: LB Jarvis Jones, RB Le'Veon Bell, TE Matt Spaeth, RB Felix Jones, RB/KR LaRod Stephens-Howling, CB William Gay, WR Markus Wheaton, S Shamarko Thomas
Outs: LB James Harrison, WR Mike Wallace, NT Casey Hampton, T Max Starks, CB Keenan Lewis, G Willie Colon.
Star Man: Ben Roethlisberger - With such issues in defence and with his own offence, Big Ben will need to come up with some of his trademark magical plays just to keep the Steelers in the argument this season.
Outlook: Never write off the Steelers is what we've come to live by over the years, but it's hard to see them doing better than the Bengals and Ravens after losing the likes of James Harrison, who moved to divisional rivals Cincinnati, along with Casey Hampton and star receiver Mike Wallace.
Rookies Jarvis Jones and Markus Wheaton were drafted to fill the huge holes left by Harrison and Wallace, and although they may do in time it's a big ask first season up. With new running back Le'Veon Bell out injured and Troy Polamalu now 32, Mike Tomlin has more questions than answers - Pittsburgh will be competitive, they always are, but it's hard to see them emerging from his division.
CLEVELAND BROWNS (5-11)
Ins: OLB Paul Kruger, DE Desmond Bryant, WR Davone Bess, OLB Barkevious Mingo, TE Gary Barnidge, WR David Nelson, CB Leon McFadden, coach Rob Chudzinski, offensive coordinator Norv Turner.
Outs: K Phil Dawson, WR/KR Josh Cribbs, TE Benjamin Watson, CB Sheldon Brown, S Usama Young, DT Frostee Rucker, LB Scott Fujita.
Star Man: Trent Richardson - The stocky rookie out of Alabama was just 50 yards shy of 1,000 last season and will need to stay healthy and improve his yards-per-carry to keep the Browns competitive.
Outlook: Every couple of years we say new coach, same old problems for the Browns - there are some bright spots of course, Trent Richardson for one and an improving defence, so new coach Rob Chudzinski has more to build on than most of his predecessors so the future certainly looks a bit brighter.
Bringing Norv Turner in as offensive coordinator might coax some better play out of QB Brandon Weedon so they should improve on their 25th-ranked offence from last year, but with five consecutive years of 11 defeats or more, just being in or around a level .500 record would be a big step forward.
Verdict
It's so difficult to judge how the Ravens will get on with such a change of personnel in Baltimore, but John Harbaugh will have them competitive and Joe Flacco and Ray Rice should do enough to get them into the play-offs.
Preference is for the Bengals though, who may not have proved it in the big games but have the talent, a growing experience and a team togetherness to take that final big step and take the divisional title and win a play-off game.
Never count out the Steelers, but it's impossible to see how they have improved from last year and the Browns' most lofty ambitions must be to finish 8-8.