NFL preview: Sky Sports looks at the NFC South
It's now or never for the Falcons after coming so close, but will the Saints come marching back?
Last Updated: 06/09/13 5:57pm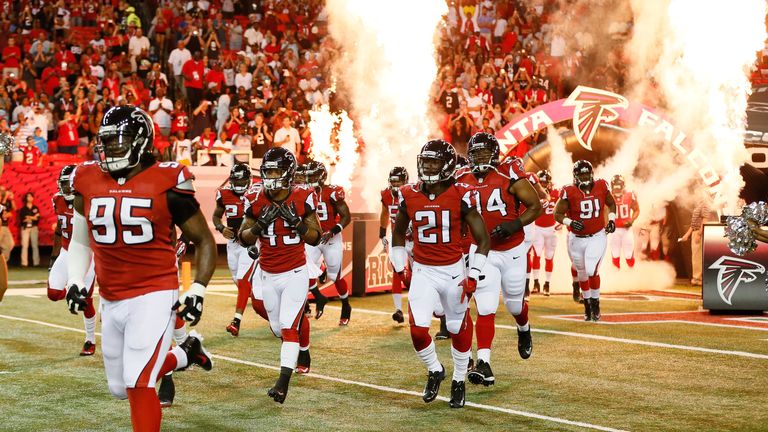 Payton returns from a year suspension for the bounty scandal to find Drew Brees and his offence still in rude health, but a defence that was as bad as they come last season, so Rob Ryan faces a job on his hands to improve his group.
Carolina and Tampa Bay would make a great team between them, with the Panthers defence right up there and the Buccaneers having a few quality play-makers, but it looks a tough ask for them to challenge for honours.
Let's take a closer look at the NFC South.
ATLANTA FALCONS (13-3)
Ins: RB Steven Jackson, CB Desmond Trufant, DE Osi Umenyiora, FB Bradie Ewing.
Outs: OT Tyson Clabo, RB Michael Turner, DE John Abraham, CB Dunta Robinson, C Todd McClure, LB Mike Peterson, OT Mike Johnson.
Star Man: Julio Jones - This could be the year that Jones elevates himself above Roddy White as the top receiver on the team - and one of the top receivers in the league as the addition of Jackson strengthens the run game and opens up a few more gaps for Ryan to find his talented wideouts.
Outlook: No team has won the NFC South in consecutive years, but the Falcons must have the best chance after consistently growing into a Super Bowl contender - and this year is now different with their offence especially looking improved from last year with the addition of running back Steven Jackson.
Veteran Tony Gonzalez delayed retirement for one reason only, to win the Super Bowl, but it will not come down to the offence as the defence will need to hold its own for this team to succeed. Losing John Abraham is a blow they must overcome as with the league's second oldest roster time is running out.
NEW ORLEANS SAINTS (7-9)
Ins: S Kenny Vaccaro, WR Kenny Stills, CB Keenan Lewis, TE Ben Watson, DT John Jenkins, DE Glenn Foster, S Jim Leonhard
Outs: LT Jermon Bushrod, WR Devery Henderson, LB Jonathan Casillas
Star Man: Drew Brees - You could argue coach Payton or defensive coordinator Rob Ryan are key this season, but this team will still be depending on Drew Brees to get them going, especially with the state of their defence.
Outlook: Payton's return will no doubt give the team a lift, but his offence still ranked second without him calling the plays last year, and it's no secret the defence is their main problem after they allowed a record 7,042 yards last term.
Opening the season against Atlanta's superb offence will tell us a lot about how much they've improved that defensive unit, but even if their improvement is slight it will still give them a great chance - after all they still won seven games last year with a miserable effort without the ball.
CAROLINA PANTHERS (7-9)
Ins: LB Chase Blackburn, CB Drayton Florence, WR Ted Ginn Jr., WR Domenik Hixon, S Mike Mitchell, CB D.J. Moore, OL Travelle Wharton.
Outs: LB James Anderson, DT Ron Edwards, CB Chris Gamble, S Sherrod Martin, WR Louis Murphy.
Star Man: Cam Newton - The dual-threat quarterback who kick-started the new trend suffered a sophomore slump with his yards and TDs down but fumbles up - but he showed late last year that he still has the skills to rouble the best defences. He will want to hit the ground running this year.
Outlook: A team of two halves, the Panthers have created solid defence for themselves but a sophomore slump for Cam Newton and a poor O-line saw them spluttering to get much offence going when they had the ball last season.
Linebacker Luke Kuechly was a star last season, and Newton should be able to improve his performance this time around with the defence keeping them in games. They need a better start than the 1-6 and 1-5 in the last two seasons but face the toughest schedule in the league on paper so it will not be easy improving on that.
TAMPA BAY BUCCANEERS (7-9)
Ins: CB Darrelle Revis, S Dashon Goldson, CB Johnthan Banks, T Gabe Carimi, DT Akeem Spence.
Outs: S Ronde Barber, PK Connor Barth, DE Michael Bennett, DT Roy Miller.
Star Man: Darrelle Revis - Tampa Bay's secondary was the worst in the league last year and they've gone big in addressing that by signing the best cornerback in the league.
Outlook: After five straight years without a post-season appearance the Bucs could do with a serious challenge, and they've certainly gone all-out addressing their league-worst secondary by signing Revis and San Francisco's talented safety Dashon Goldson.
Quarterback Josh Freeman didn't get many plaudits last year but did become the team's first 4,000-yard passer. He's inconsistent but has a hugely talented receivers in Vincent Jackson and Mike Williams while Doug Martin was superb at running back last season - so if Freeman can rally in his contract year they may just upset a few people.