NFC East preview: Washington Redskins hope to fend off chasing pack in 2013
The Redskins took the spoils last year but the Cowboys and Giants will be out for revenge.
By Alex Williams
Last Updated: 06/09/13 5:37pm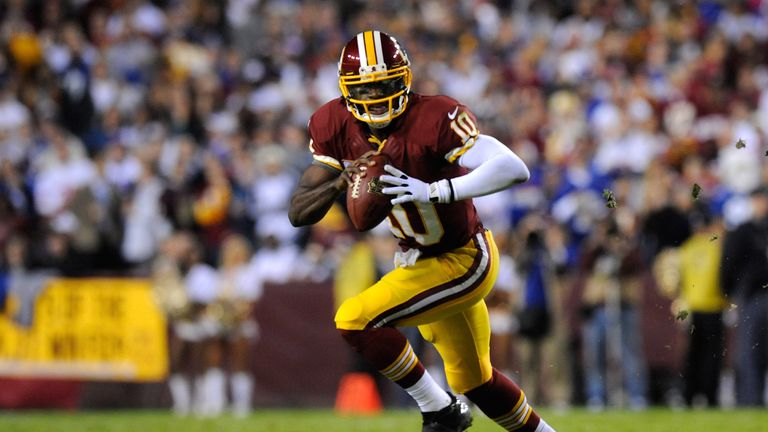 Last season it was the Washington Redskins who produced a big shock to finish atop the standings behind an inspired campaign from rookie quarterback Robert Griffin III.
But the New York Giants and Dallas Cowboys are still very much contenders despite their disappointing records in 2012, and the possibility of Griffin toning down his playing style only enhances their chances.
With the Philadelphia Eagles having hired innovate offensive mind Chip Kelly as their new head coach, there is plenty to look out for in the NFC East.
WASHINGTON REDSKINS (10-6)
Ins: CB EJ Biggers, WR Devery Henderson, WR Donte' Stallworth, DE Darryl Tapp.
Outs: OT Jammal Brown, CB Cedric Griffin, S Madieu Williams.
Star Man: Robert Griffin III. The quarterback inspired the Redskins to the division title following an incredible rookie campaign which saw him set the highest passer rating ever by a first-year signal-caller. However, his season was ended by a serious knee injury in the first round of the play-offs and many are wondering whether his body can withstand another season of punishing hits. If he is forced to cut down on his rushing attempts, will Griffin be as effective?
Outlook: On paper the Redskins should be in a good position to build on the foundations that were laid last season. There has been minimal change in the roster and both Griffin and running back Alfred Morris should be a lot better with one full year of NFL experience under their belts. Griffin's health is the biggest question mark, however. He is set to be ready for the Redskins' opener but if he continues to play the way he did last year, it is unlikely he will last the season.
The Redskins had fifth-worse rated defence in the NFL last season, but part of that can be attributed to an unfortunate string of injuries. The likes of Brian Orakpo and Adam Carriker are now fit again and return to bolster the pass rush. If Griffin can stay healthy and improve on his incredible production from last year, the Redskins are Super Bowl contenders. If not, they may struggle to make the play-offs.
NEW YORK GIANTS (9-7)
Ins: K Josh Brown, LB Dan Connor, TE Brandon Myers, DT Cullen Jenkins, CB Aaron Ross.
Outs: TE Martellus Bennett, DT Rocky Bernard, LB Chase Blackburn, LB Michael Boley, RB Ahmad Bradshaw, DT Chris Canty, WR Domenik Hixon, OT Sean Locklear, S Kenny Phillips, K Lawrence Tynes, DE Osi Umenyiora.
Star Man: Victor Cruz. Like the Giants as a whole, Cruz made a hot start last season before fading away over the second half of the campaign. The speedy receiver, who went undrafted in 2010, signed a new five-year contract in the off-season and has a lot to live up to this season.
Outlook: The Giants have lost a number of starters on defence and even though some of them were clearly past their best anyway, the team may well be affected by the departures. The defensive line has undergone a huge overhaul, with athletic pass rusher Jason Pierre-Paul now expected to step up as the star man of both the front seven and the defence in general.
Running back Ahmad Bradshaw's exit was possibly the highest-profile of all but in David Wilson New York have an explosive replacement who can go the distance on any play. Jerry Reese is renowned for building solidly through the draft and this year he selected offensive lineman Justin Pugh in the first round to aid the Giants' pass protection issues. Damontre Moore, a talented defensive end, was a great value selection in the third round. But the outcome of the Giants' season likely rests on the shoulders of two-time Super Bowl-winning quarterback Eli Manning, who has one of the best receiving corps in the NFL at his disposal if he can find the consistency he lacked last year.
DALLAS COWBOYS (8-8)
Ins: LB Justin Durant, S Will Allen.
Outs: LB Victor Butler, LB Dan Connor, CB Mike Jenkins, RB Felix Jones, WR Kevin Ogletree, S Gerald Sensabaugh, DT Marcus Spears.
Star Man: DeMarcus Ware. While the pass-rushing linebacker may have seen a slight dip in his sack totals in 2012, he is still the cornerstone of the Dallas defence and a player that no offensive lineman in the NFL will relish trying to block.
Outlook: That Dallas has a talented team has not been in question over the past few seasons. The likes of DeMarco Murray, Dez Bryant, Ware, Brandon Carr and Morris Claiborne are some of the most exciting players in the NFL at their respective positions, but as a team Dallas' regular season records and play-off performances have consistently failed to match their potential.
The feeling heading into this season is that this is a make-or-break year for both head coach Jason Garrett and quarterback Tony Romo, who has the added pressure of a recently-signed six-year, $108 million contract to contend with. If the roster plays up to its potential then the Cowboys have a legitimate shot at a Super Bowl run but, as we have seen in recent seasons, a spectacular implosion is also not out of the question.
PHILADELPHIA EAGLES (4-12)
Ins: LB Connor Barwin, TE James Casey, S Patrick Chung, QB Dennis Dixon, Clifton Geathers, CB Bradley Fletcher, P Donnie Jones RB, Felix Jones, DT Isaac Sopoaga, CB Cary Williams.
Outs: CB Nnamdi Asomugha, OT Demetress Bell, OT King Dunlap, DT Cullen Jenkins, LB Akeem Jordan, P Mat McBriar, CB Dominique Rodgers-Cromartie, G Jake Scott, DE Darryl Tapp.
Star Man: LeSean McCoy. Although his carries as a traditional running back may decrease in the offence of new head coach Chip Kelly, McCoy is still a major threat catching passes out of the backfield and is looking to bounce back from an injury-hit 2012.
Outlook: After their 'Dream Team' experiment ended in something more closely resembling a nightmare, the Eagles have opted to rebuild under Kelly and with a dramatically overhauled defence. Cullen Jenkins, Akeem Jordan, Nnamdi Asomugha and Dominique Rodgers-Cromartie were all important starters last year but have left the franchise in the off-season. Although the latter three may have been disappointing in their short stints with the Eagles, they still leave big holes to fill.
But all the talk heading into the season has been of the Eagles' offence. Kelly was famed for his high-tempo 'blur' attack while in charge at the University of Oregon and whether he can transfer it successfully into the professional ranks has been a source of much debate. He certainly has suitable tools to work with - Michael Vick is still one of the NFL's more mobile quarterbacks despite his age, McCoy is an elusive runner and DeSean Jackson has pace to burn either as a receiver or hybrid tailback/wideout. Whatever happens, it will be interesting to watch.