NFL preview: Sky Sports looks at the battle for the AFC South
Houston have been a popular Super Bowl pick for a few seasons and this year it's time to get serious.
Last Updated: 06/09/13 6:01pm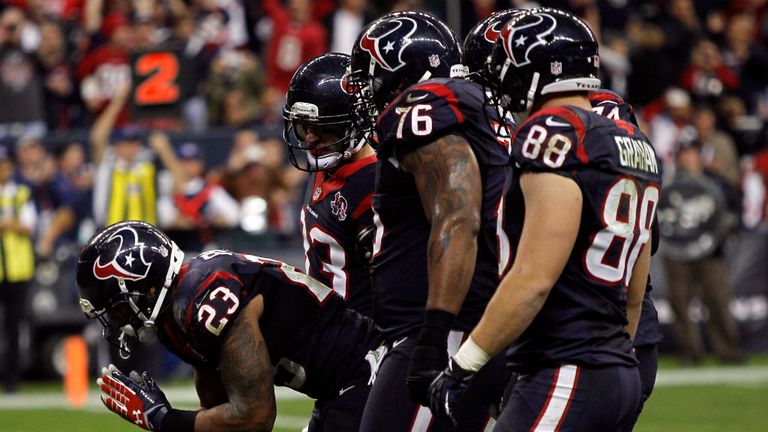 Both teams made the play-offs last year, but injuries again hampered the Texans while the Colts made an improbably post-season appearance under rookie QB Andrew Luck - this year we'll see if that was a fluke or not.
While the top two are looking for those extra pieces, the Titans and Jags are both teams 'in transition' as they evaluate their rosters and in particular their former first-round quarterbacks.
Let's look through the AFC South...
HOUSTON TEXANS (12-4)
Ins: S Ed Reed, WR DeAndre Hopkins, LB Joe Mays, S D.J. Swearinger.
Outs: OLB Connor Barwin, SS Glover Quin, WR Kevin Walter.
Star Man: Arian Foster - Has some injury issues to get over, but if fully fit he wil again lead Houston's powerful run game along with Ben Tate, but is also a useful catcher out of the backfield and is a real menace for opposing defences.
Outlook: Another talented roster and a second straight play-off appearance last season, but a disappointing loss in New England leaves them now starting to wonder if they can get over that hump and at least reach the Championship game - although injuries have not helped in the last two years.
A fully healthy Andre Johnson out wide, along with rookie DeAndre Hopkins, should give Matt Schaub plenty of aerial options, while linebacker Brian Cushing is back and with JJ Watt healthy and Ed reed now arriving the defence should be even stronger than last year's top ten unit.
INDIANAPOLIS COLTS (11-5)
Ins: RB Ahmad Bradshaw, RT Gosder Cherilus, DL Aubrayo Franklin, QB Matt Hasselbeck, WR Darrius Heyward-Bey, DL Ricky Jean Francois, S LaRon Landry, LG Donald Thomas, CB Greg Toler, LB Erik Walden, LB Bjoern Werner.
Outs: WR Austin Collie, DE/LB Dwight Freeney.
Star Man: Andrew Luck - He looked like a veteran NFL quarterback right from the very start as he embarked on a record season, he will of course find it tough repeating that performance but everything about him suggests he will still be the star of this team.
Outlook: Huge turnaround last year on the back of Luck's record rookie season, and that will be a tough act to follow, especially with a tougher schedule, but with upgraded offensive line they will again be targeting a 13th post-season in 15 years.
They have solid wideouts and tight ends, but a good addition could be Ahmad Bradshaw from the Giants, who is not the best thought-of running back in the league but is a genuine starter and if they can get a run game going that will only help Luck avoid a sophomore slump.
TENNESSEE TITANS (6-10)
Ins: SS Bernard Pollard, LG Andy Levitre, S George Wilson, LB Moise Fokou, C Rob Turner, TE Delanie Walker, DT Sammie Hill, DE Ropati Potoitua, QB Ryan Fitzpatrick, RG Chance Warmack, assistant coach Gregg Williams.
Outs: TE Jared Cook, QB Matt Hasselbeck, DT Sen'Derrick Marks, LB Will Witherspoon.
Star Man: Chris Johnson - The Titans hope an improved offensive line can help the fleet-footed rusher get back to his best, and they need him to be to stand a chance of winning more than six games.
Outlook: Jake Locker has had two years in the NFL now and needs a big, and healthy, season to convince the Titans he is the future for them at quarterback - an improved line will help but he also has to make a statement.
Defence conceded the most points in the league last year but was a top-10 unit in interceptions so they will hope to tighten up and give themselves a chance to make meaningful plays, but this year is basically one of evaluation.
JACKSONVILLE JAGUARS (2-14)
Ins: RB Justin Forsett, LB Geno Hayes, DT Roy Miller, CB Alan Ball, DT Sen'Derrick Marks, RT Luke Joeckel, S Johnathan Cyprien, CB Dwayne Gratz, WR Ace Sanders, OW Denard Robinson.
Outs: FB Greg Jones, LB Daryl Smith, CB Rashean Mathis, CB Aaron Ross, CB Derek Cox, DT Terrance Knighton, DT C.J. Mosley, S Dawan Landry.
Star Man: Maurice Jones-Drew - Hardly an abundance of choice for this one, with MJD the only true star on this team for the last few years.
Outlook: The new regime has chosen to keep most of their skill position players and given them a chance to prove themselves, so on recent form there will not be a vast improvement this year, but it will at least give them a definitive verdict on whether to keep Blaine Gabbert or go drafting for a new QB.
Defence needs to improve from third-worst last year, while listing rookie Denard Robinson as an 'offensive weapon' is about as exciting as it comes for the London-bound Jags, who are rebuilding again for the third time in five years.
Verdict
It's hard to see anything but the same again in the AFC South, the Colts may actually be a better team this year but not match their remarkable 11-win season from last time out, but they will hope to remain in the wildcard hunt.
Jacksonville and Tennessee are still evaluating their roster and you get the impression there could be wholesale changes depending on how their main men perform over the season.
Houston is just too good a team in this division though, and with a clean bill of health this year they will again be in the Super Bowl argument.