NFL preview: New York Jets at New England Patriots live on Sky Sports
It's a quick turnaround for the New England Patriots and New York Jets as the two bitter rivals meet again on Thursday.
Last Updated: 11/09/13 4:23pm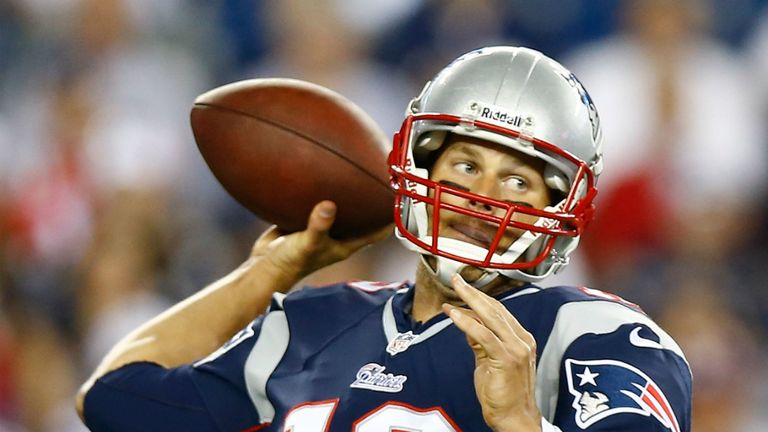 Both teams have a common dislike of each other, but they also have more in common in the fact they both needed last-minute field goals to ensure they started the season off with a win on Sunday.
Tom Brady was hassled all day long by the Bills but managed to get out of jail, while Geno Smith marked his NFL debut by somehow getting his team in field goal range in the dying seconds against Tampa Bay after the Bucs had largely dominated that contest.
The win for the Patriots came at a heavy cost and Brady will have even less in his armoury after running back Shane Vereen dislocated a bone in his wrist and was ruled out until week 11 at the earliest after having surgery.
Pats injuries
Having already lost the players who caught 89 per cent of Brady's passes last season, the Pats are now without the man who garnered 37 per cent of their offensive work against the Bills, with Vereen piling up 158 all-purpose yards as a good passing option as well as a runner out of the backfield.
Tight end Rob Gronkowski is unlikely to play at Foxborough on Thursday, while new wide receiver Danny Amendola is almost certain to be ruled out due to a nagging groin injury he picked up against the Bills.
Amendola left the game in Buffalo but returned bravely and caught ten passes for 104 yards, but yet again it seems his troubles staying fit have followed him from St Louis to New England.
Add to that the niggling hamstring for rookie tight end Zach Sudfeld and you have a vastly depleted Patriots offensive unit to take on the Jets.
Stevan Ridley will get the start at running back despite his fumbling issues from Sunday, while Julian Edelman will be heavily involved in the passing game and much more will be needed form rookie Kenbrell Thompkins.
Thompkins came into the season with lofty expectation and was targeted by Brady 14 times on Sunday, but struggled badly catching just four passes and even running into his own man at one play when hopelessly lost.
If Ridley again struggles then coach Bill Belichick is down to the bare bones, with the likes of the giant but sluggish-looking LeGarrette Blount and recently re-signed special teams man Leon Washington next on the list.
Jets news
For the Jets - Smith again will get the start at quarterback after leading his team to the win last week and with Mark Sanchez still out with a shoulder injury - which will require a second opinion on the diagnosis.
Smith was the first QB drafted in the second round or later to win a season-opener and pass for over 250 yards since the 1970 merger, and at last the Jets have some sort of hope at the quarterback position.
There will, of course, come more difficult questions to answer when Sanchez is healthy again and is sitting on the bench with a huge contract, but if Smith can grind out a few more wins that will help settle matters.
Although he was not perfect against the Bucs, Smith found a way to get the win, drawing a penalty as he scampered to the sideline on a run to get his team into kicking range, and it's that winning mentality that the team have been sadly lacking in recent seasons.
Smith was also the team's leading rusher against the Bucs with 47 yards from six carries, and head coach Rex Ryan will be keen to get more out of running backs Bilal Powell and Chris Ivory after they made just 44 on 22 combined rushes.
The Jets defence held Tampa Bay to just three points in the second half and 250 total yards in the entire game, and although Brady offers a much sterner test - with so many offensive weapons missing they will fancy their chances of the upset.
And an upset it would go down as, with New England having won 11 straight games against AFC East opponents and riding a 12-game winning streak at home against divisional rivals - including a 49-19 hammering of the Jets last Thanksgiving.