NFL: San Francisco 49ers linebacker Aldon Smith goes into rehab
Aldon Smith has apologised to the San Francisco 49ers after he was put on indefinite leave in order to enter rehab.
Last Updated: 24/09/13 6:38pm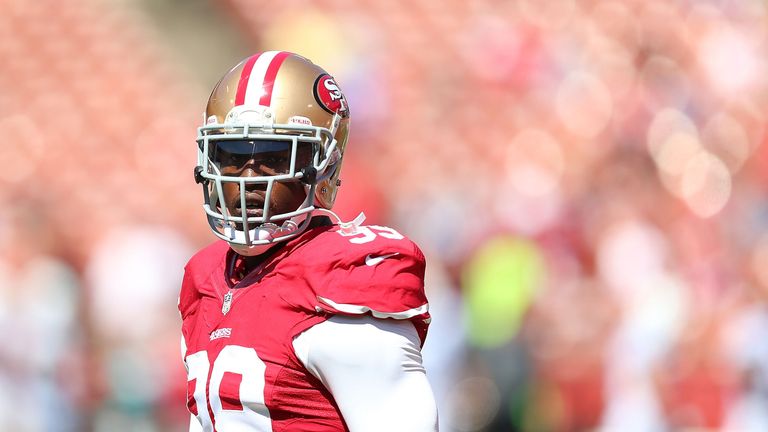 Smith was arrested on Friday on his second charge of driving under the influence of alcohol in two years, after he crashed his car, and he has now been told to seek treatment for alcohol addiction.
The 49ers allowed the outside linebacker to play in Sunday's defeat against the Colts, but his locker was then cleared out on Monday and he was placed on the non-football injury list.
There is no timetable for Smith's return, and the team can play him at any time once he is cleared by doctors, and they also do not have to pay for his salary during this time.
He also will likely be suspended by the NFL once his latest case is finished, and he used his time after Sunday's defeat to apologise for his actions.
Apology
"First off, I wanted to apologize to the team, the organization, my family, everybody that I let down." Smith said.
"I also wanted to let it be known that this is a problem. It's something I will get fixed, and I will do everything in my power to make sure that this never happens again.
"I also want to let everybody know that once again, I'm sorry, and, like I said, this won't happen again."
The Niners said that they took the decision to let him play on Sunday so he could face his team-mates, the fans, and the media and front up to his actions.
"Our position was, sitting somebody down and paying them to sit down when they're going to see treatment in the future, that didn't seem like an appropriate punishment," said team CEO Jed York said.
Reasonable
"I know it might not seem reasonable, but for Aldon to be able to face the media, to face his teammates and take full responsibility for what he is doing, we felt that was the best situation for Aldon himself and for the team and ultimately the community at large.
"I realize people might not agree with that decision, but that was the decision we felt was best.
"As an organization, we have talked to him. We feel like there was no right decision, there was no right way to do it, but this was in our opinion the best way to do it.
"We're going to support Aldon to the fullest as long as he is willing to support himself toward making things right.
"We are very fortunate that nobody got hurt (in the car crash), Aldon included, and anybody else. We want to make sure that Aldon is never in a position like this again."