NFL Wembley: San Francisco 49ers the biggest fliers in the league this year
Wembley is just one stop on a 32,000-mile journey for the San Francisco 49ers this season.
Last Updated: 25/10/13 2:46pm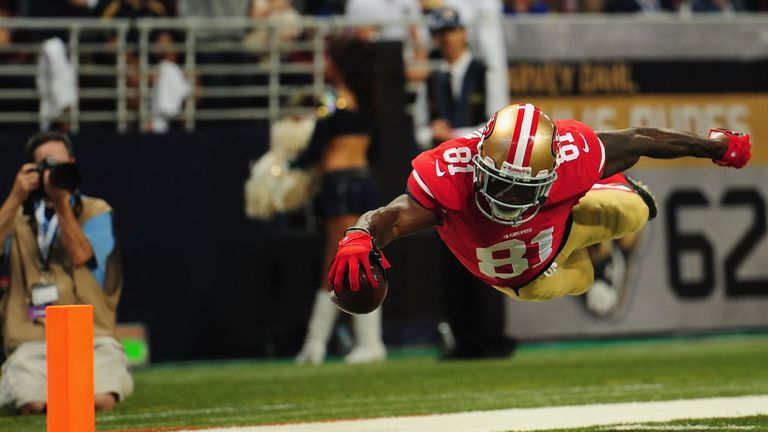 Being based on the west coast of America, the 49ers often have to make long trips to the opposite side of the States, but this time they have flown even further with 5360 miles between San Francisco and London.
That means that not only will the 49ers clock up more than the 25,000 miles it takes to get around the Earth, they will fly over a staggering 32,000 miles during their eight regular season fixtures on the road - great for the frequent flier miles but no so good on the fatigue and recovery.
"I'm not going to lie - that's a long flight to go if you have an away game," said Jaguars running back Maurice Jones-Drew. "I tell you (what), eight hours is a long flight. I guess that's my take on that. I don't really know right now, but it's a long flight away from home."
San Francisco top the list of long-distance fliers in the NFL this season, and only time will tell whether all that travelling hampers their quest to go one better than last year's unsuccessful Super Bowl appearance.
Pioneers
The 49ers are proud to be heavily involved with the NFL's plan of growing the game worldwide - this will be their third Wembley appearance and second time in four years they have played in London in the new International Series format.
Co chairman Dr John York has a lot to do with that, as a former head of the NFL's International Committee he is keen on growing the game and has previously been one of those who believe a UK franchise would happen one day in the future.
As for this year, the 49ers are more than comfortable in their new surroundings, with head coach Jim Harbaugh seeing it as a great opportunity to keep his team together for the entire week and not only bond but also get extra work done in quieter confines than back home.
"It's a great place to set up camp, hunker down in a football environment," Harbaugh said. I think we have everything we need. Great set up here at The Grove, football oasis. So, it's been a pleasure.
"I think there are many positives. The team really can spend more time together, getting to know each other even better. Everybody's got a story. A chance to spend time in the rooms at the hotel here, or more time with the coaches to watch tape. You don't have to drive home.
Bonding
"You don't have to drive into work. You really just come right down the elevator, or the lift. And then practices and meeting rooms are right across, are a short walk to the practice field, weight room, everything centrally located. An opportunity for more positives I believe."
Body-clock issues caused by the 49ers crossing eight time zones en route to London have largely been negated by arriving in the UK early in the week, while a bye week after the game ensures they have much longer to recuperate.
Along with British Olympian Lawrence Okoye, the 49ers also have a big London fan in defensive line coach Jim Tomsula, who lived in London during his days as coach of the London Monarchs.
With three games next year coming just 12 months after the first experiment at two, the NFL looks like speeding up plans for integration into the UK and Europe's sporting hearts - and Tomsula is one of those backing the progress.
"I think the sky's the limit, I really do," Tomsula said. "I think this is a fantastic game. I love being around it. When you look at this game, this game is for everybody. Guys that look like me can play this game."