Super Bowl XLVIII: Peyton Manning named NFL MVP for the fifth time in his career
Peyton Manning had two reasons to be cheerful on the eve of Super Bowl XLVIII as he won a record fifth NFL MVP award.
Last Updated: 02/02/14 7:03pm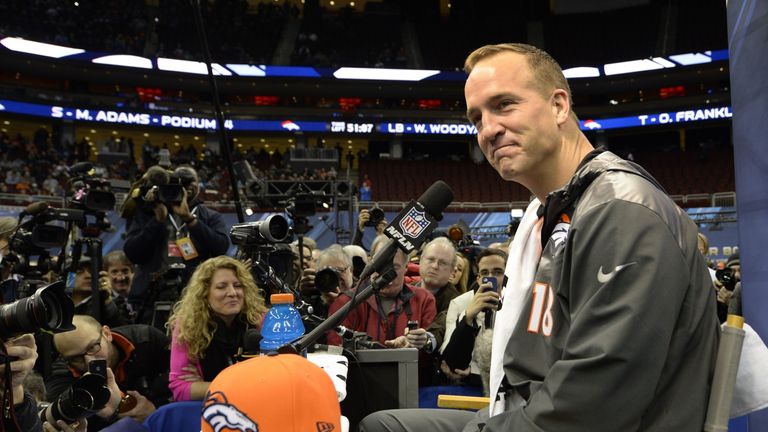 The night before he looks to beat the Seattle Seahawks to win a second Super Bowl, Manning was rewarded for his record-breaking season by being named the league's best player.
Manning is two clear of the nearest multiple MVP winner, and is the first player to win the award when playing for two different teams.
As he was locked away at the Denver team hotel, Manning's father, Archie, and son, Marshall, collected the award on his behalf as he sent in a video message to the gathered audience at Radio City Music Hall in Manhattan.
Manning broke the single-season passing yards and touchdown records as Denver scored more points than any other team in history - and all coming just a couple of years after neck surgery put his career in question and saw him leave his long-time team Indianapolis.
Manning received all but one of the 50 votes for the award, with New England Patriots quarterback Tom Brady, who Manning beat in the AFC Championship game, receiving the other.
Broncos executive John Elway was on hand to accept the Offensive Player award on Manning's behalf.
"I can say I have never seen a better year played by a quarterback than Peyton Manning," Elway, who won a Super Bowl in his time under centre in Denver, said. "To see what he did this year, it was truly amazing."
Running back LeSean McCoy of Philadelphia was second with 10 votes for that honour, followed by Kansas City tail-back Jamaal Charles (four).
From the Super Bowl to the Showdown on MNF, it's a great weekend on Sky Sports. Click here to upgrade