NFL: Michael Bennett re-signs with Seattle Seahawks, Sam Shields stays with Packers
Last Updated: 11/03/14 8:31am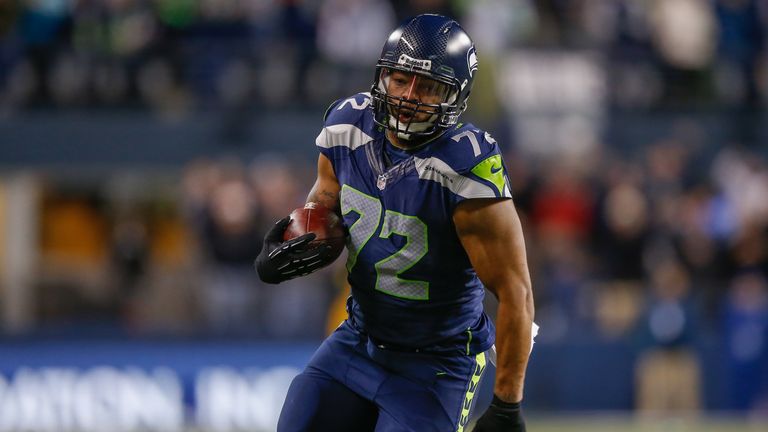 Defensive end Michael Bennett has signed a new four-year contract with Super Bowl Champions the Seattle Seahawks.
Former Tampa Bay Buccaneers lineman Bennett signed a one-year deal with Seattle before the start of the 2013 season and went on to become an integral part of the Seahawks' fearsome defence during their NFL title-winning year.
He was expected to attract big offers from around the NFL in the free agency market but has instead opted to stay with his current side.
Financial details of the deal have not been confirmed but reports in the US media suggest it is worth a total of $28.5 million, with $16 million of that being guaranteed.
The Green Bay Packers have also managed to prevent a vital member of their defence from hitting free agency after agreeing to a new deal with cornerback Sam Shields.
Signing
The signing was reported as a four-year deal worth a total of $39 million, but the Packers have not confirmed the length or financial details of the contract.
The Minnesota Viking also looked to have re-signed defensive end Everson Griffen, who was also expected to attract plenty of offers if he had become a free agent.
Confirmation of the deal is yet to be given by the Vikings, but Griffen has written on his Twitter account that he will be staying in Minnesota.
Griffen tweeted: "First off, I just want to thank God for this blessing. My family wants to thank the Minnesota Vikings for believing in me. Also, we want to thank [the] Wilf family for allowing me to stay apart of this amazing organization. Let's go to the promise land."
Initial reports suggest Griffen has signed a five-year deal worth in excess of $40 million, numbers which if true would mean he has netted a higher average salary than Bennett.