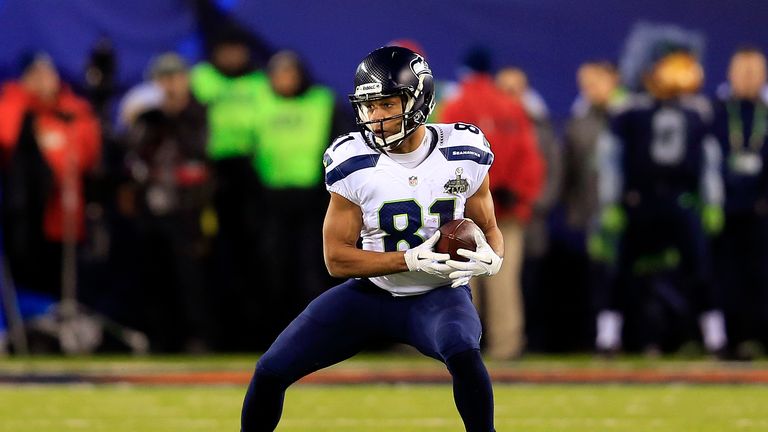 Detroit have confirmed the signing of Super Bowl-winning wide receiver Golden Tate on a five-year contract.
Tate earned a Super Bowl ring with Seattle last season, but he has now agreed to join the Lions as a probable No 2 receiver to Calvin Johnson.
Terms of the deal were not released, but the former Seahawks star is reported to be getting $31million over the next five years with $13.25m guaranteed.
The 25-year-old is regarded as a versatile wideout who can also play as a slot receiver, and he is also known for having one of the safest pairs of hands in the NFL.
Tate is looking forward to linking up with Lions quarterback Matt Stafford after being stifled by Seattle's heavy reliance on their running game in recent seasons.
I had a great four years in Seattle and I'm going to miss that place
Golden Tate
"I feel like I'm going to get a lot of balls, the other receivers are going to get a lot of balls," Tate said. "That's exciting. Especially coming from a run-heavy offense where all the notoriety went to the defence.
Opportunity
"I'm super-excited about that opportunity, but I see myself being a great complement to Calvin Johnson and him being a great complement to myself."
Tate had also been linked with Jacksonville and the New York Jets, while many expected him to extend his stay with the Seahawks.
"It wasn't as tempting with the Jets or the Jags. More so with Seattle," Tate said. "I had a great four years in Seattle and I'm going to miss that place to death.
"Great city. Great people. Great fans. But for me, it just made more sense to come here. I could see a ton of upside in the vision this organization has and that I have is all the same, and I'm excited just to be a part of something special."
Despite Seattle's prolific running game, Tate enjoyed career-best figures last season as he hauled in 64 receptions for 898 yards.
He was also one of the leading punt returners in the NFL, posting an average of 11.5 yards per return from 51 attempts.