NFL: Oakland Raiders linebacker Menelik Watson makes emotional visit to Manchester
By Richard Graves reports from Manchester
Last Updated: 18/07/14 6:56am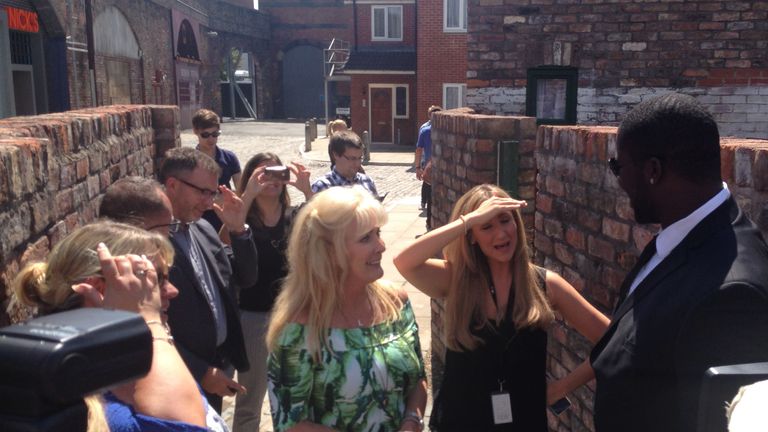 He stands 6 foot 7 inches tall, weighs 315lb and when selected in the second round of the 2013 NFL Draft with the 42nd overall pick by the Oakland Raiders, he became the highest drafted British player in NFL history.
Menelik Watson is a success story and one his family are very proud of. So to return to his home city of Manchester, five years after leaving to pursue a dream of playing basketball in America, was always going to be an emotional occasion.
Tears flowed as the 25-year-old offensive lineman hugged his mum and Watson is grateful for all the hard work and faith she showed in him and his brothers as they grew up.
"Everything she did for me and my brothers, it didn't go to waste. Wherever my mum wants to go, she's going - it's just the beginning," he told Sky Sports.
Raiders fans will hope that same promise applies to their team after the dramatic slide in their fortunes since appearing in Super Bowl XXXVII, 11 years ago.
Last season they finished bottom of the AFC West, but have strengthened their defense by signing a number of Super Bowl Winning veterans including Justin Tuck, Charles Woodson and Lamarr Woodley.
They have also added linebacker Khalil Mack in the first round of the Draft and there is now a confidence growing in Oakland, one which is optimised by Watson himself.
"This year is totally different - a different feel," he said. "We are a different team this year, we're gonna adopt the mindset of the old Raiders. Every time we go out there, we're going to be the most physical and nastiest team in the National Football League."
Watson hopes to put those words into action by winning a role in the Raiders' starting line-up.  That would mean a chance to play on home soil in front of UK fans this September when the Raiders meet the Miami Dolphins at Wembley Stadium in the first of 3 NFL games to be played here this year.
"It'd mean everything. First of all to be starting is a privilege and to be able to run out, holding that flag at home, with my mum and family in the stands.....I can't imagine it," he said.
Injury meant the 2013 season was a frustrating one for Watson and the Raiders. Next week they head to training camp, intending to lay the foundation for a resurgent campaign in 2014.