NFL: Sky Sports speaks to cornerback Brandon Carr about Wembley, the Dallas Cowboys and Jerry Jones
Last Updated: 01/08/14 5:05pm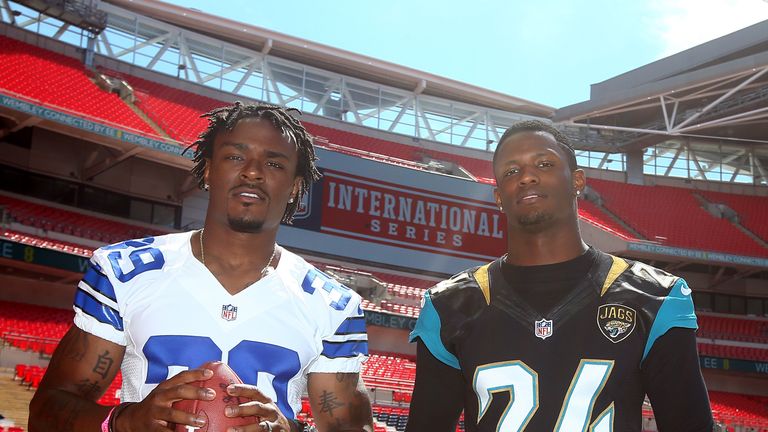 Brandon Carr is no stranger to playing under the spotlight as every time he pulls on his beloved Dallas Cowboys jersey he knows his every move is going under the microscope as part of one of the most talked-about sports teams in America.
Carr and the Cowboys will be heading to Wembley this year to face the Jacksonville Jaguars in one of three NFL International Series games in London in one season, with the spotlight in the UK also increasing in power.
The Cowboys play in one of the best stadiums in America, but even with that Carr was still impressed by his first visit to Wembley, and also thinks that teams could be making a regular trip if the current trend continues.
"I can only imagine what it's going to be like with 90,000 screaming fans on game day," Carr told Sky Sports. "Wembley measures up to our stadium pretty well and I think our stadium is top of the line, there's no jumbotron but this is beautiful.
"You see it on TV and hear about it but to finally experience it and come on the field it's kind of breath-taking, you can see the arch from the air and see how massive the stadium is, it's pretty cool.
"I've heard there's a great atmosphere, I've been to one Super Bowl and I hear it's pretty similar to that – so I hope it can give us a run through for a possible Super Bowl – knock on wood!
London team
"Cowboys fans are all over the world, so they're going to be supporting us and I'm looking forward to some good support – we've just seen some people from the Cowboys UK fan club so they'll be here for us.
"With the three games this year, there's always been talks about flirting with the idea of coming over here and having a franchise, that may be in the works. It'd be fun if it did happen that way for a team to experience this then for us to be able to travel and experience this atmosphere.
"Anything is possible now and NFL has taken off to a whole other level. If they did create one over here then you guys would be on the right time zone, we might have to get up at 6am to watch but it'd be an incredible experience."
Playing for the Cowboys has not been easy of late, they've had three straight 8-8 seasons and have not enjoyed a winning record or play-off game since 2009.
Their last Super Bowl win came in 1996 and for an owner such as Jerry Jones, legions of passionate supporters and the ever-critical eye of the American media and public alike, that only intensifies the circus that surrounds them.
"When I got to Dallas I knew how big the spotlight was and how highly criticised the team was – win, lose or draw," said Carr. "But you don't actually know the feeling until you're in those shoes.
"To see the spotlight on us all the time, a random Tuesday has Cowboys headlines, it's odd as I'm from Kansas City and we didn't make too many headlines."
Pressure on Romo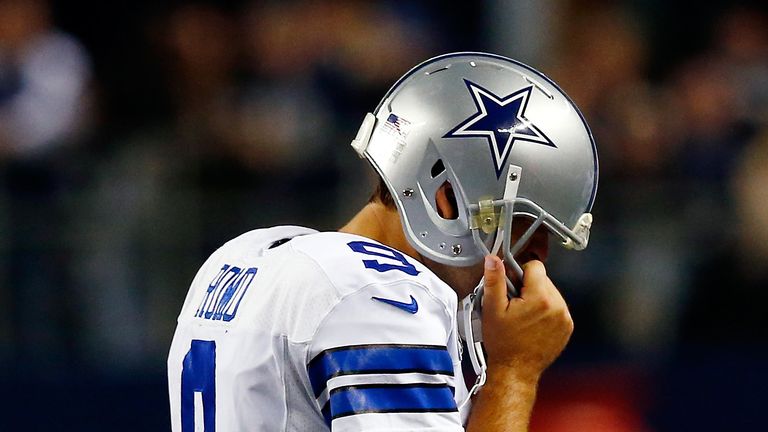 And no player hits the headlines more regularly than Tony Romo, who divides opinion more than any other quarterback but, according to Carr, needs more support from his team this season.
"I don't know, if Tony was on another team I don't think he'd be as criticised. I mean we have the majority of our games on primetime and the Cowboys are America's Team and he's the lead dog of them all with being the quarterback so he's going to take the most heat.
"At the same time he makes a lot of incredible plays and keeps us in a lot of games and this year again I think it's going to come down to the defence, like it should have done last year, to help him out and help him win some of those games."  
Speaking of that defence, they ranked dead last in total defence last season, and Carr knows they need a step up if Dallas are to stand any chance this season.
"This is year two of our defence, last year we implemented a new defence, a new scheme, new playbook, new everything. And at the same time getting new players in trying to figure each other out.
"This is year two, we've got a year under our belts of knowing what we do well and what we don't do so well so this year we're going to play to our strengths, we're going to get after the quarterback and we've got to play with a lot of tenacity, a lot of speed and just have fun all at the same time."
Playing in Jerry world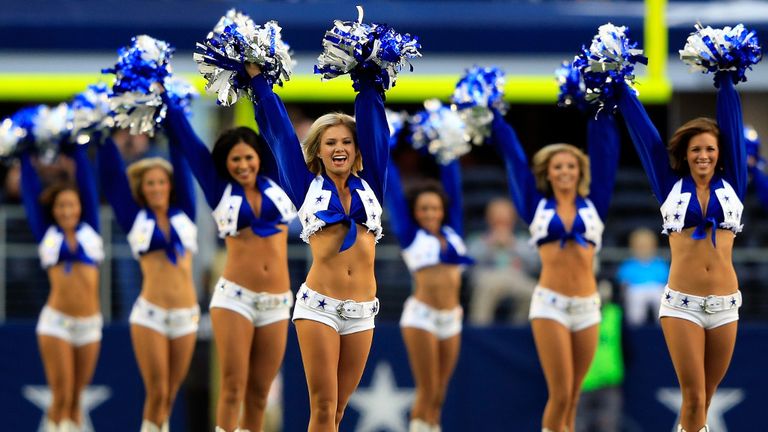 Another major part of playing for the Cowboys, is playing for flamboyant owner Jerry Jones, arguably the highest profile owner in the league, and Carr says you can feel that he is the heart and soul of the team.
"He addresses us sometimes, but his presence is always felt, he watches us in practice, he's there on game days shaking guys' hands and getting them motivated.
"You just get a sense that the Cowboys and the stadium and everything that the star brings that's his baby.
"He puts his best foot forward when it comes down to this team, he never half steps, so he takes care of his players, and he loves his stadium. So it's time for us to turn the tables and get some wins and get this momentum back in our direction."