NFL: Quarterback Andy Dalton signs new contract with Cincinnati Bengals
Last Updated: 07/08/14 11:09am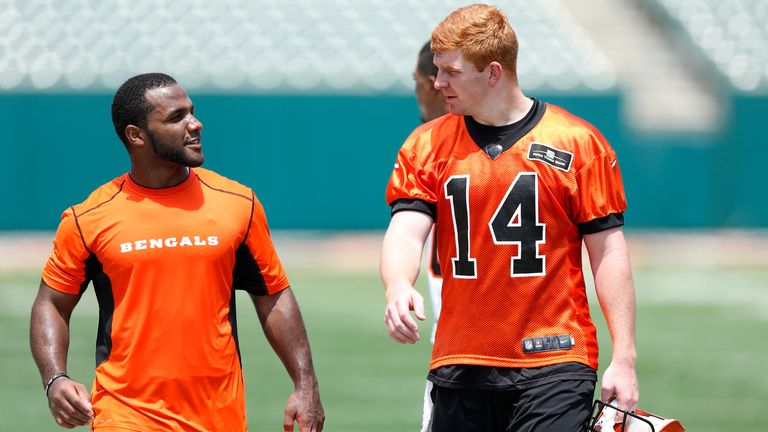 Despite his well-chronicled struggles in the playoffs, the Cincinnati Bengals have handed quarterback Andy Dalton a six-year contract extension worth $96 million.
The fourth-year signal caller will bring in $17 million immediately in signing bonuses, with that fully guaranteed slice of the deal being more than Colin Kaepernick received in his new San Francisco deal.
Dalton has led a strong Bengals team to the playoffs in the last three years, but the post-season is where his struggles have really started, and he is yet to get anywhere near to being an asset to his team outside of the regular season.
Only Peyton Manning and Dan Marino threw more touchdown passes in their first three NFL seasons than Dalton, but when it really matters, in the play-offs, he has crumbled, throwing just one TD against six interceptions.
The Bengals, though, see a young quarterback who has led his team to the playoffs in his first three season, and whose regular season stats are all on the rise, so they are backing him to come good.
"We're betting big on him because we believe in him," said Bengals owner Mike Brown.
Super Bowl squad
With a squad seemingly primed for a big Super Bowl run, the Bengals know Dalton needs to start performing sooner rather than later, but they have opted to hand him the cash now as a confidence boost rather than going the Baltimore way who made Joe Flacco go out and earn his big new deal.
Flacco's huge contract led to the Ravens losing a number of their other stars though through salary cap issues, and the up front money for Dalton will allow the Bengals to try and tie-up deals for the likes of star receiver AJ Green and tight end Jermain Gresham.
26-year-old Dalton insists he will not be feeling any extra pressure to perform on the back of signing his big new contract.
"This is unbelievable. I'm just very thankful for the Bengals organization and for my teammates to help me here where I am," Dalton said. "I'm excited about the future and that I'll be here for a long time.
"I expect to go out and play well. That's the biggest thing. I don't think there is any more pressure. The biggest thing hanging over me is I haven't won a playoff game. That's what we're striving to do. Not win just one, but win it all.
"Until that happens, people will always say, 'he hasn't done this, he hasn't done that.' I have to go out and accomplish that."