NFL play-offs: Robert Griffin III injured as Seattle Seahawks beat Washington Redskins
The Seattle Seahawks came from 14-0 down to beat the Washington Redskins 24-14 in their wildcard round play-off game.
Last Updated: 07/01/13 8:41am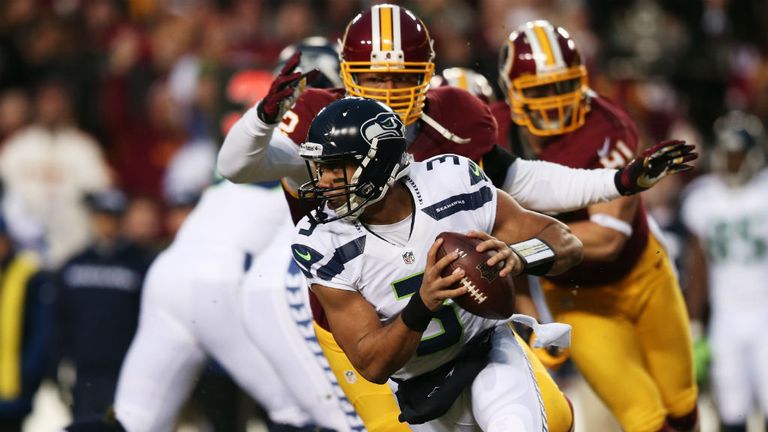 Despite a fast start Griffin's knee soon gave way and he was severely limited when passing for just 84 yards until he was forced out of the game in the fourth quarter.
Seattle were led by their own rookie quarterback Russell Wilson, who passed for 187 yards and a touchdown, while running back Marshawn Lynch carried the load with a score and 131 yards as the Seahawks won their first play-off game on the road since 1983.
Pete Carroll's red-hot team now move on to the divisional round where they will play the NFC's top seeds Atlanta in the Georgia Dome, while the Redskins will be hoping their prized asset RGIII will not suffer too much lasting damage from playing injured.
Washington started the game brightly and moved into a 14-0 lead thanks to a pair of touchdown throws from Griffin on the team's first two possessions - both being four-yard touchdowns to Evan Royster and Logan Paulsen.
The momentum swung markedly in the second quarter after Steven Hauschka had kicked a 32-yard field-goal for the Seahawks to kick-start their fightback they then got a huge slice of luck when Wilson's fumble was picked up by Lynch who turned it into a big gain.
The same drive resulted in a four-yard touchdown reception for full-back Michael Robinson who was left wide open by the Redskins defence, and Seattle were right back into the contest.
Just two plays after getting the ball back, Griffin, who was looking more and more uncomfortable with his knee injury, launched a deep ball that fell well short of Pierre Garcon and was gobbled up by Pro Bowl safety Earl Thomas.
The Seahawks capitalised by kicking a 29-yard field-goal, despite their kicker Hauschka limping with an ankle injury, to make it a one-point contest at 14-13 at half time.
Seattle continued to dominate in the third quarter but Lynch's fumble at the goal line cost them the chance to take the lead, as Griffin's limp got worse as the Redskins continued to struggle to move the ball.
Lynch made amends with a superb 27-yard touchdown run in the fourth, and the two-point conversion made it 21-14 Seattle, and things went from bad to worse soon after when Griffin's knee finally gave out.
After struggling for most of the game the rookie quarterback fell awkwardly when fumbling a snap, and he was carried off the field after Seahawks got the ball back deep in the red zone - although the Redskins held them to just a field-goal.
Kirk Cousins could not get anything going as he came in for Griffin though, and Seattle held out to march on into the next round of the play-offs when tey will go on the road again to face the Falcons next week.