Road to Indy - Patriots
Tom Brady and Rob Gronkowski enjoyed record-breaking seasons during New England's journey to the Super Bowl ...
Last Updated: 03/02/12 6:30pm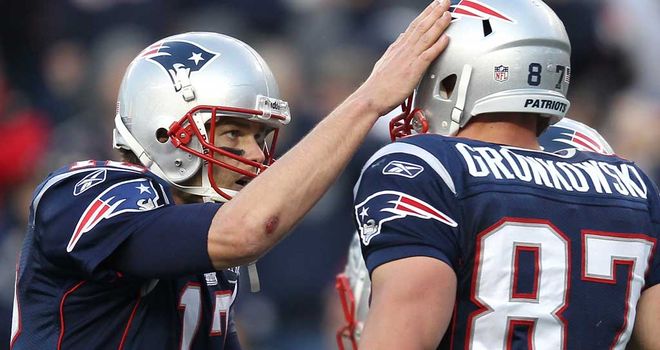 Those who questioned Tom Brady at the start of the season were soon put in their place in week one, when the New England quarterback passed for 517 yards and four touchdowns against Miami.
Brady's performance in the 38-24 opening-day victory set the tone for the season - passing touchdowns aplenty, but a leaky defence giving cause for concern.
This became abundantly evident in week three, when Brady's four touchdowns were not enough to avert a shock 34-31 defeat to AFC East rivals Buffalo.
The Patriots recovered with three straight wins as Brady formed a potent bond with second-year tight end Rob Gronkowski, but their vunerable defence was exposed in defeats to Pittsburgh and the New York Giants.
But Brady continued to pile up the yardage, hitting Gronkowski and Wes Welker with remarkable accuaracy as New England earned the AFC No 1 seed for the play-offs on the back of eight straight wins.
Brady, who finished the regular season with 39 touchdowns, gave young upstart Tim Tebow a lesson in a 41-23 crushing of the Broncos in week 15, and the pair would meet again in the divisional round of the play-offs.
An unstoppable Brady threw for a record-equalling six touchdowns, including three to Gronkowski, in a 41-10 drubbing which booked an AFC Championship showdown with Baltimore.
The Ravens defence held Brady without a touchdown pass and had the audacity to intercept him twice, but the Patriots No 12 still managed to cap a 63-yard drive with a one-yard score in the final quarter to give his side a 23-20 lead.
Sterling Moore then stripped Lee Evans in the end zone in the final minute, but overtime looked a certainty as Billy Cundiff lined up a 32-yard field goal.
But the hapless Baltimore kicker dragged his kick wide of the posts, and a stunned New England celebrated a fifth trip to the Super Bowl in nine seasons.