Baltimore Ravens v Cleveland Browns - NFL AFC North, live on Sky Sports
An old rivalry is resumed on Thursday night as Baltimore host Cleveland live on Sky Sports 2 HD.
Last Updated: 28/09/12 7:55am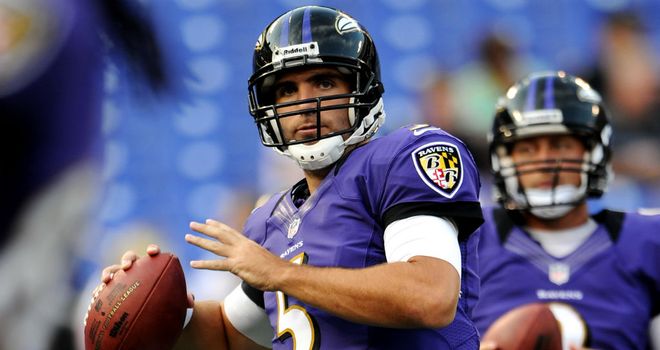 It will be a battle of the old and the new between these two AFC North rivals - the old Cleveland Browns upped and left to relocate in Baltimore leaving the city without a team until the NFL introduced the new Browns.
The Ravens are enjoying vastly better fortunes than the Browns these days though, after beating the much-hyped New England Patriots on Sunday night to make it 13 on the spin at their vibrant M&T Bank Stadium home.
Cleveland are one of only two winless teams still left in the NFL, along with the surprisingly bad Saints, and their 11 straight losses to AFC North teams and 11 straight divisional road defeats are not stats that will fill them with confidence.
And what's more, Cleveland will largely be depending on two rookies to get them going, but quarterback Brandon Weeden and running back Trent Richardson come up against Ed Reed, Ray Lewis and a Ravens defence that loves to feast on rookies.
At least the refereeing should be up to scratch in the game after the league finally ended the lockout of the regular officials to end what had become a farcical scenario with the replacements.
Turnaround
"We've played Thursday after a Sunday but we haven't played Thursday after a Sunday night," said Ravens coach John Harbaugh, who insists they will not be taking the Browns lightly.
"It's going to be a huge challenge for us. I know they're going to come in here, a division game, a big rivalry game, always a big emotional game against the Browns. We've played a lot of tough games against these guys."
Ravens QB Joe Flacco cannot wait to get back onto the field after his 382-yard, three-touchdown performance against the Patriots on Sunday, when he looked very comfortable in a no-huddle offence.
Despite such a good record, Flacco has strangely taken a lot of criticism for his performance in big games, but Browns coach Pat Shurmur has never doubted his ability.
"I've always been a Joe Flacco fan," Shurmur said. "I always thought he's been a good quarterback, a top-level quarterback in this league.
"Someone was trying to kind of council me up about Joe Flacco, if he's taken the next step? I mean you're looking at a quarterback that's led his team to the play-offs the last four years.
"When you watch them play I think they've made an effort to become more explosive as an offense and I think that's showed up in the first three weeks."
Defence
The Ravens have beefed it up on offence, without a doubt, Flacco has an AFC-leading 913 yards passing and Baltimore also top the conference with 98 points in three games - and although they have allowed more yards and points than you'd expect, their defence is still amongst one of the toughest in the league.
Linebacker Lewis has 13 Pro Bowls, safety Reed eight - and those numbers sit nicely with Weeden's six interceptions for the season and four sacks he suffered against Buffalo last week.
Cleveland are fifth-worst in the league in terms of points scored with 57, and have only averaged 11.4 in the last eight games against Baltimore, which have all been pretty convincing defeats.
No wonder, then, that they are desperately seeking a spark from Weeden and Richardson, although the QB's rating of 60.7 is bettered by all but two triggermen in the NFL whilst Richardson was held to just 27 yards last week.
The Alabama stand-out has looked the part at times though, and he needs to have plenty of the ball to give the Browns a chance, even if it does mean going up against Lewis and co.
"It's going to be an honor just being on the same field as Ray Lewis," Richardson said. "I've looked up to him for years, still look up to him, especially to his leadership and how he handles things. But you know, it's going to be like another game."