Aaron Rodgers throws four touchdowns as the Green Bay Packers beat the New Orleans Saints
Aaron Rodgers threw the winning touchdown as the Green Bay Packers claimed a 28-27 victory over the New Orleans Saints.
Last Updated: 01/10/12 10:09am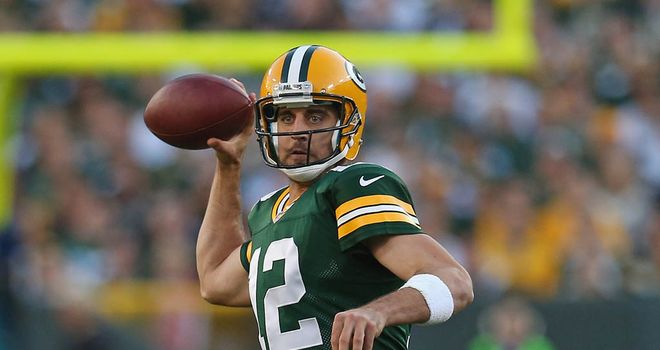 Rodgers threw for 319 yards with four touchdowns and an interception for the Packers (2-2), while the Saints continued their wait for a first win of the season, slipping to a miserable 0-4.
Drew Brees threw for 446 yards with three touchdowns and has now thrown at least one touchdown in 47 straight regular-season games, tying the NFL's all-time mark set by Johnny Unitas.
With the win, the Packers were able to put Monday night's controversial replacement official-driven loss at Seattle behind them. But even with the regular refs back this week, the Packers were nearly dealt a crushing blow on a blown fumble call which allowed the Saints to attempt a go-ahead field goal.
But Garrett Hartley missed a 48-yarder wide left with just under three minutes remaining and the Packers held on to close out the victory.
The Packers made a hot start and were 21-7 ahead in the second quarter when Rodgers twice hit James Jones for touchdowns and also threw a score to Greg Jennings.
Marques Colston, who finished with a game-high 153 receiving yards, had got the Saints on the board after catching a pass from Brees, whose second strike to Darren Sproles made it 21-14 at the half.
In the second half the Saints rallied to take the lead thanks to two Garrett Hartley field goals and an 80-yard touchdown pass from Brees to Joseph Morgan, before Rodgers edged the Packers back in front.