Andy Dalton on form as the Cincinnati Bengals beat the Jacksonville Jaguars
Andy Dalton threw two touchdown passes and ran a score in as the Cincinnati Bengals beat the Jacksonville Jaguars 27-10.
Last Updated: 01/10/12 10:08am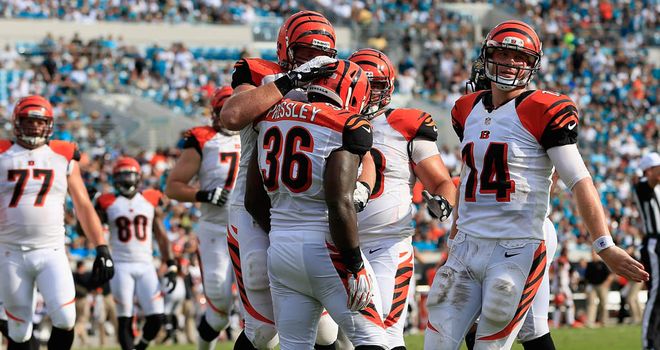 Dalton and star wideout AJ Green, who finished with 117 receiving yards, burned Jacksonville several times, including once to set up a second-quarter touchdown and again for a fourth-quarter score.
The Bengals (3-1) finished with six sacks, overcoming several defensive injuries to put constant pressure on Blaine Gabbert.
Gabbert completed 23 of 34 passes for 186 yards, with a touchdown and an interception as he and the rest of the Jaguars (1-3) were outplayed by their opponents.
The Bengals, who outgained Jacksonville 382-212, were 3-0 up after the first quarter before Marcedes Lewis caught a two-yard pass from Gabbert to give the hosts the lead at EverBank Field.
But the Bengals roared back as Dalton hit Chris Pressley from one-yard out before a 43-yard pass to Green set up the Cincinnati quarterback for a one-yard plunge into the end zone.
Dalton and Green hooked up several more times in the second half, including on an 18-yard pass which resulted in a touchdown to give the visitors a 24-10 lead.
Josh Scobee and Mike Nugent scored a field goal apiece in the second half to bring the final score to 27-10.