Robert Griffin III leads winning drive as the Washington Redskins beat the Tampa Bay Buccaneers
Robert Griffin III led the game-winning drive as the Redskins secured a 24-22 victory over the Buccaneers.
Last Updated: 01/10/12 10:29am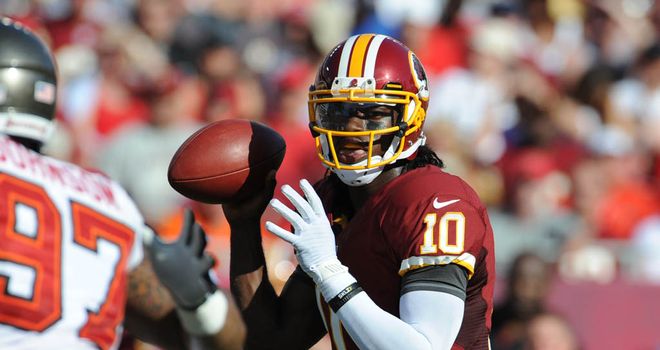 With the game on the line at the end of the fourth quarter, Griffin moved the Redskins (2-2) right down the field before Billy Cundiff hit a 41-yard field goal to seal the victory and end a two-game losing streak.
Cundiff missed three earlier attempts, including a 31-yarder that wound have put the Redskins up by two scores early in the fourth quarter but was on the money with just three seconds left in the game.
Tampa Bay (1-3) wiped out an 18-point deficit to go ahead 22-21 on Connor Barth's third field goal - a 47-yarder with 1:42 remaining - but their comeback would ultimately fall short.
Griffin completed three straight passes to move the Redskins from their own 20 to the Tampa Bay 41, then ran for 15 yards to the 26. Cundiff kicked the game-winner two plays later.
Griffin threw for 323 yards without an interception and rushed for 43 yards and a touchdown, while his opposite number Josh Freeman threw for 299 yards, a touchdown and an interception. Buccaneers receivers Mike Williams and Vincent Jackson had 115 and 110 receiving yards respectively.
In the first half the Redskins scored three touchdowns in quick succession as Pierre Garcon recovered a fumble in the end zone, Griffin scored on a five-yard run and Alfred Morris rushed home from 39 yards.
But the Buccs hit back as touchdowns from Jackson and running back LeGarrette Blount, added to Barth's three field goals, edged them ahead by a point before Griffin had the last word.