Lawrence Tynes' field goal miss cost the New York Giants as Philadelphia held on for the victory
Lawrence Tynes missed a field goal with 15 seconds left as Philadelphia held on for a 19-17 victory against the Giants.
Last Updated: 01/10/12 10:51am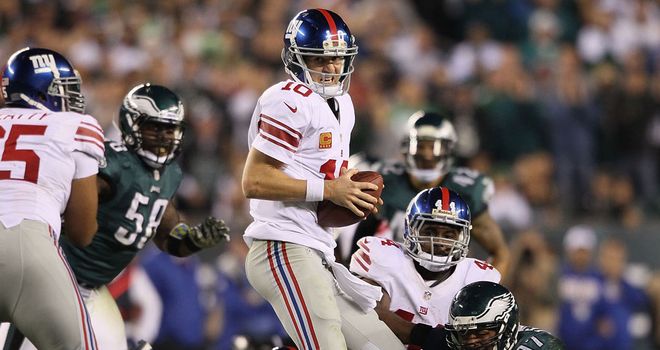 Quarterback Michael Vick was 19 of 30 for 241 yards for the Eagles while Giants QB Eli Manning completed 24 of 42 passes for 309 yards, two touchdowns and one crucial interception.
Philadelphia used a no-huddle offense to drive 70 yards on 11 plays for the only first-half TD. The Eagles converted three third downs on the series, including Vick's 19-yard TD pass to DeSean Jackson on third-and-9.
The Giants responded in the third quarter with Manning picking out Victor Cruz with a 14-yard pass to level the game at 10 apiece.
After Manning tossed a 6-yard TD pass Bear Pascoe, Vick drove the Eagles to the Giants 2 before Osi Umenyiora sacked him for a 6-yard loss on third down.
Alex Henery, who also connected from 48, 35 and 20 yards, then hit his fourth field goal to put the Eagles ahead for good.