Drew Brees breaks touchdown record as New Orleans Saints beat San Diego Chargers
Drew Brees broke an NFL record by throwing touchdown pass in 48 straight games as the Saints beat the Chargers 31-24.
Last Updated: 08/10/12 11:37am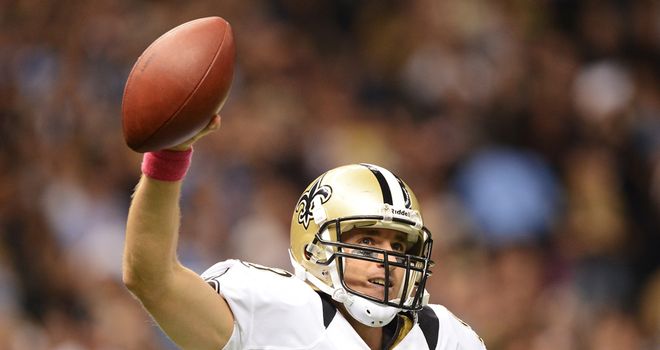 Brees' 40-yard pass to Devery Henderson eclipsed the mark of 47 consecutive games with a touchdown pass set by Johnny Unitas from 1956-60.
Brees' also had three scoring strikes to Marques Colston, who now holds the franchise record with 52 touchdown catches, as the Saints (1-4) finally posted their first win of the season.
At Brees' request, the NFL allowed head coach Sean Payton, assistant head coach Joe Vitt and general manager Mickey Loomis - all serving various suspensions in connection with the NFL's bounty investigation - to attend the game and see the record being broken.
Chargers quarterback Philip Rivers passed for 354 yards and two touchdowns to former Saint Robert Meachem, but had two costly turnovers in the final quarter as New Orleans turned the game around late on.
Meachem's first touchdown catch opened the scoring before Brees' record-setting strike to Henderson tied the game at 7-7 at the end of the first quarter.
Meachem grabbed a second score before the half while a Nick Novak field goal ensured that the Chargers (3-2) went into the break ahead after Colston had caught his first touchdown from Brees.
The third quarter saw the two sides trade touchdowns again, with Colston's second score eclipsing a franchise mark set by Joe Horn in 2006.
The Saints were still a field goal behind entering the final quarter but Brees hit Colston in the end zone again to edge the hosts ahead at the Mercedes-Benz Superdome before Rivers threw an interception to allow Garrett Hartley to increase the gap with a 26-yard kick.