NFL: San Francisco 49ers set franchise record in drubbing of Buffalo Bills
The San Francisco 49ers compiled a franchise-record 621 yards of offense in a 45-3 thrashing of the Buffalo Bills.
Last Updated: 08/10/12 11:37am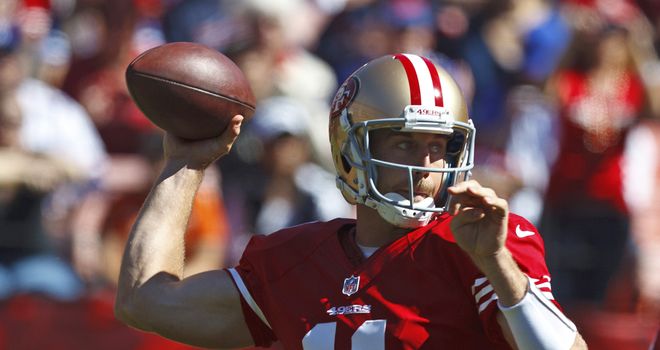 Quarterback Alex Smith threw for a season-high 303 yards and three touchdowns, Frank Gore ran for 106 yards and a score and Michael Crabtree and Vernon Davis each eclipsed 100 yards receiving.
Both sides made an inauspicious start and a field goal each was all they had to show for their efforts approaching the midpoint of the second quarter. But the 49ers (4-1) then exploded to score the final 42 points.
Smith, who had already completed a 53-yarder to Davis that set up a field goal by David Akers, threw touchdown passes of 43 yards to Kyle Williams and 36 yards to Crabtree to give San Francisco a 17-3 lead at the half.
The Bills (2-3) blew plenty of chances to stay in the game. A holding penalty on Jairus Byrd wiped out a punt return Leodis McKelvin took for a touchdown early in the first quarter and later on the offense failed to score any points after McKelvin returned a kick-off 59 yards.
In the second quarter, when back-up quarterback Colin Kaepernick fumbled on an end-around and Buffalo took over, Scott Chandler was stripped by Patrick Willis two plays later.
The 49ers scored just once in the third quarter as Gore dived in on a one-yard run before the hosts made the scoreline ugly in the final quarter.
Smith also tossed a 10-yard touchdown pass to Mario Manningham, Kaepernick ran 16 yards for a score and Anthony Dixon added a three-yard run for the final touchdown.
Since taking a 21-7 lead against the Patriots last week, Buffalo has been outscored 90-10. The Patriots and 49ers combined to gain 1,178 yards. And with the 49ers shredding the New York Jets last week, they've outscored opponents 79-3 the past two weeks.