NFL: Chicago Bears run away from Jacksonville Jaguars to claim easy win
The Chicago Bears produced a huge second half performance to race to a 41-3 victory over the Jacksonville Jaguars.
Last Updated: 08/10/12 11:00am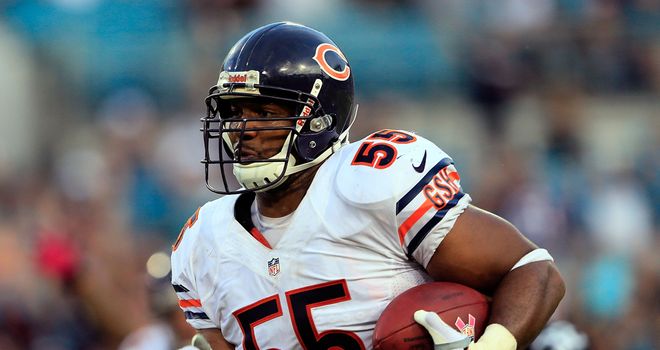 Once again the defence proved to be an effective scoring weapon as Charles Tillman and Lance Briggs both returned interceptions from Jaguars quarterback Blaine Gabbert for touchdowns.
The Bears (4-1) scored 38 unanswered points, including 35 after the half, to win their third consecutive game as Jacksonville slumped to 1-4 having lost all three of their home games.
The rapid scoring of the second half was a stark contrast to the start of the game, with the contest seeing as many punts (six) as points. A field goal each made it 3-3 at the half.
Robbie Gould added a second three-pointer to give Chicago a 6-3 lead in the third quarter before Tillman's interception return sparked the visitors into life.
The Jacksonville defence wilted, allowing touchdowns on two consecutive drives as Jay Cutler hooked up with rookie Alshon Jeffery for a 10-yard score on the first play of the fourth quarter, and then found Brandon Marshall for a 24-yarder with 8:37 remaining.
Briggs then ran in Chicago's second pick six of the half to make it 34-3 and a 46-yard run by Armando Allen completed the scoring late on.
Cutler finished with 292 yards passing, 144 of which were caught by Marshall. Matt Forte ran 22 times for 107 yards while no-one on Jacksonville's offense, including star running back Maurice Jones-Drew, managed to do anything of note.