NFL: Rob Bironas earns Tennessee Titans win over Pittsburgh Steelers
Rob Bironas booted a last-gasp 40-yard field goal as the Tennessee Titans sunk the Pittsburgh Steelers.
Last Updated: 14/10/12 11:46pm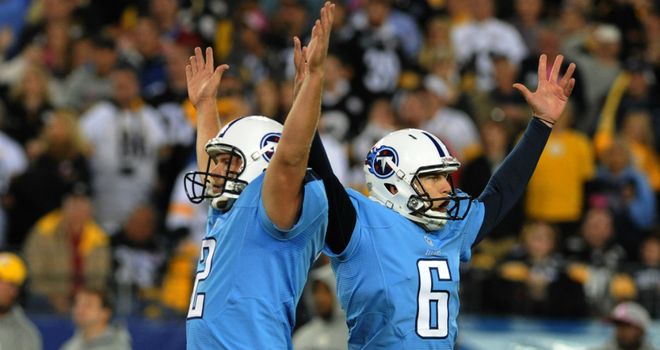 Bironas finished with four field goals for the Titans, who ended a three-game National Football League losing streak against the Steelers.
After Matt Hasselbeck led the Titans on an 11-play, 80-yard scoring drive to tie the game late in the fourth quarter, Ben Roethlisberger moved the Steelers into Tennessee territory.
But Shaun Suisham missed a 54-yard field goal attempt with less than a minute remaining, handing the ball back to the Titans.
They let the clock run down and called their final timeout with four seconds left, setting the stage for Bironas' game-winning kick.
"Everyone believed in what we were doing," 37-year-old Hasselbeck, the second oldest quarterback in the National Football League this season, told reporters.
"We knew we had plays there to make, we just had to go do it and not make excuses. It wasn't about the Steelers, they are a good team, it was just about us."
Roethlisberger had to be content with passing Hall of Famer Terry Bradshaw as the Steelers all-time passing yardage leader, after he completed 24-of-40 passes for 363 yards.
But there was injury misery to compound defeat - Ike Redman, Rashard Mendenhall, Maurkice Pouncey and Marcus Gilbert were all forced off the field.