NFL: Aaron Rodgers stars as Green Bay Packers inflict first defeat on Houston Texans
Aaron Rodgers put it all together as the Green Bay Packers handed the Houston Texans their first defeat of the season.
Last Updated: 15/10/12 8:54am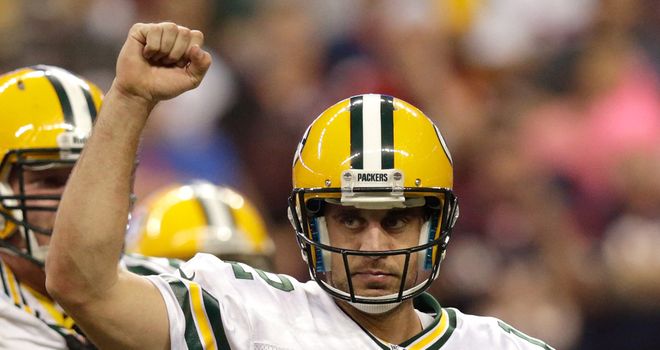 Quarterback Rodgers, the reigning league MVP, set a career high and tied a franchise record with six touchdown passes as the Packers prevailed 42-24 at Reliant Stadium.
Jordy Nelson caught three touchdown passes and James Jones had two, including a beautiful, diving one-hander in the fourth quarter for Green Bay, who are now back to 3-3.
Tom Crabtree had the other, a 48-yarder that Rodgers threw just before taking a hit from Texans' outside linebacker Brooks Reed.
Rodgers completed 24-of-37 passes for 338 yards. He tied Matt Flynn's game record for touchdown passes, set in last year's regular-season finale against Detroit with Rodgers resting on the sideline in advance of the play-offs.
Arian Foster scored two touchdowns but ran for only 29 yards as the Texans dropped to 5-1.
The result leaves the Atlanta Falcons (6-0) as the only unbeaten team in the NFL.