NFL: Robert Griffin III leads the Washington Redskins to victory at the Minnesota Vikings
Robert Griffin III ran for a 76-yard touchdown as the Washington Redskins beat the Minnesota Vikings 38-26.
Last Updated: 15/10/12 3:18pm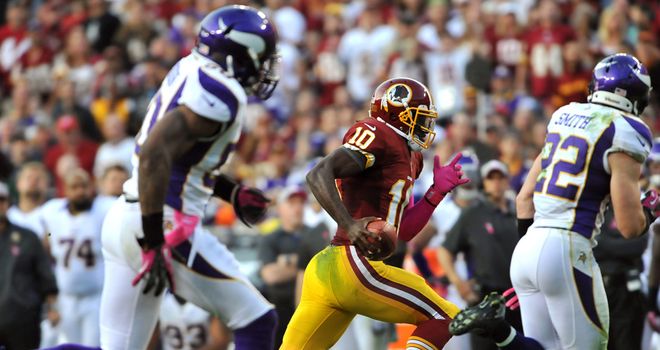 The Heisman Trophy winner rallied his team from an early hole, ran for 138 yards and threw for 182 in a win that snapped the Vikings' three-game winning streak.
After falling behind 9-0, the Redskins responded with 24 straight points during a stretch in which they outgained the Vikings 225 yards to 14.
Minnesota paid the price for promising drives that produced three points instead of seven, with four field goals from Blair Walsh accounting for all their points through the first three quarters.
The Vikings finally found the end zone on Michael Jenkins' nine-yard catch with just over eight minutes to play and Kyle Rudolph's one-yard snag - set up by Josh Wilson's pass interference penalty - with three minutes and 36 seconds to go to cut the Redskins' lead to 31-26.
But Griffin responded with the longest touchdown run by an NFL quarterback since Kordell Stewart scampered 80 yards for the Pittsburgh Steelers against the Carolina Panthers in 1996.
The Vikings had started to use their timeouts, hoping to get the ball back with a chance to win, but Griffin dispelled that notion to put the Redskins up by 12 with two minutes and 48 seconds remaining.
Griffin's display came just a week after he left the Redskins' loss to the Atlanta Falcons after being hit in the head and was only allowed to play after passing the NFL's post-concussion tests.
Washington's win puts them at 3-3 for the season, one game behind the New York Giants in the NFC East, while the Vikings are 4-2 and trail only the Chicago Bears (4-1) in the NFC North.