All change for Cleveland Browns as team president Mike Holmgren is replaced
Jimmy Haslam's purchase of the Cleveland Browns from Randy Lerner has been approved at a meeting of NFL team owners.
Last Updated: 17/10/12 11:57am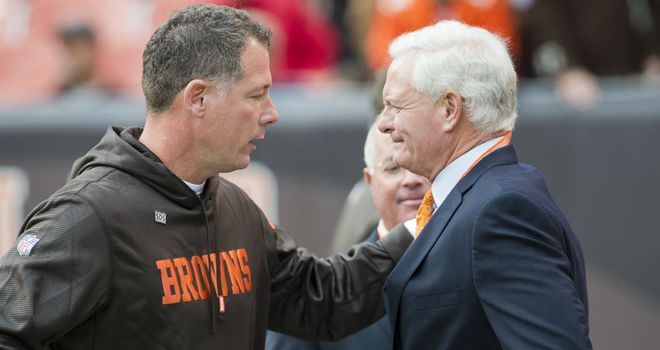 The deal between Haslam and Randy Lerner, who inherited control of the team from his father Al back in 2002, was agreed back in August, with the fee reported to be 1billion US dollars.
Aston Villa owner Lerner will still retain a 30 percent stake - since his family were awarded the franchise in 1999 the Browns have enjoyed just two winning seasons and made just one play-off appearance.
"Jimmy Haslam, who agreed to purchase a controlling interest in the Cleveland Browns in August, was approved by a unanimous vote from the other clubs at the NFL's Fall Owners Meetings in Chicago, the NFL announced Tuesday morning," said a statement on Cleveland's official website.
Haslam's first move was to announce that Joe Banner would replace Mike Holmgren as team president, though the latter will continue on with the team until the end of the season.
Holmgren guided the Green Bay Packers and the Seattle Seahawks to the Super Bowl during his coaching career before joining the Browns in 2009.
"Joe and Mike will work together to transition, in a seamless fashion, to bring a winner to the Cleveland Browns," Haslam said.