Tom Brady hopes Wembley crowd will back New England Patriots against St Louis Rams
Tom Brady is hoping to have the backing of the British crowd when the Patriots square off against the Rams at Wembley.
Last Updated: 26/10/12 3:34pm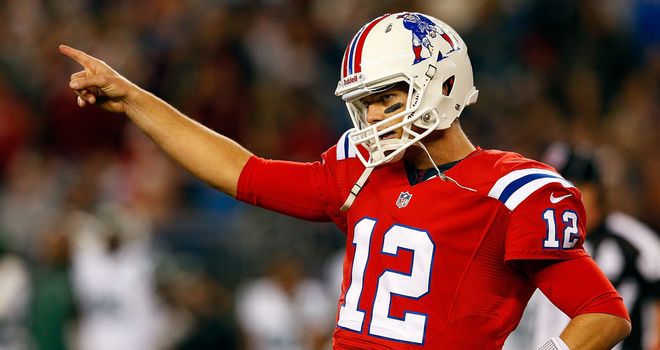 Brady will be playing for a second time in London having made the trip over in 2009 as the Patriots claimed a 35-7 victory over the Tampa Bay Buccaneers.
The 35-year-old is eager to raise the popularity of the NFL outside of American borders and believes that fans in England should find it easy to adopt his team, although he has no illusions of knocking soccer of its perch.
"I hope the fans in England really enjoy the game. We certainly do in America. Hopefully the fans in England will root for New England too - hopefully that makes the most logical sense," he said.
"But I know how much they love soccer and I don't think anything is going to get in the way of their rooting interest in a football team - or a soccer team - or whatever you want to call it. I get confused."
While the Rams are already in London, choosing to have a full week of preparations in which to get acclimatised, the Patriots are remaining home in Massachusetts before arriving on Friday.
"It was a great experience last time. The fans were loud, they were screaming the whole game and it seemed like we had fantastic support," Brady added.
"We had the opportunity to practice at a famous cricket stadium (The Oval) and all the experiences were memorable, but for us the best part was to go there and win.
"As much fun as it can be, you still have to do your job. There are chances to go to London sightseeing but that's not for this trip."
The NFL's regular trips to Wembley have helped popularise American football in the UK, but Rams quarterback Sam Bradford thinks there is still a long way to go before it becomes a part of the nation's culture.
"There's very little awareness as to what American football is and it was surprising just how little they knew about our game," Bradford said.
"I think it's one of the great opportunities for the NFL to come over here. These kids aren't exposed much to football so if we want to grow our game we're going to have to do things like this.
"Some of the kids, it was the first time they'd ever seen an American football."