New York Giants QB Eli Manning hopes Steelers game helps with Hurricane Sandy recovery in New Jersey
New York Giants quarterback Eli Manning hopes his team can help distract fans from the effects of Hurricane Sandy.
Last Updated: 31/10/12 7:09pm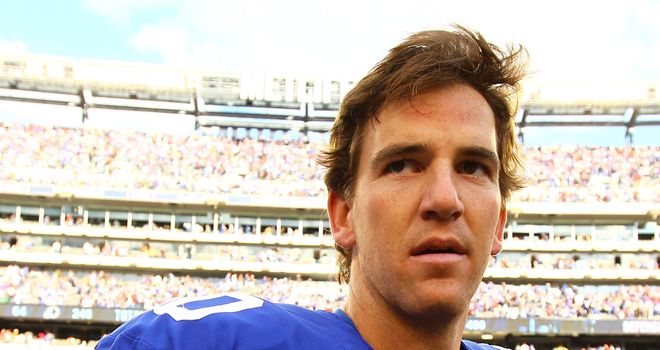 The Giants' MetLife Stadium sits in the state of New Jersey, which has been the worst hit area along with New York City itself after the super-storm wreaked havoc on the east coast of America on Monday night.
The NFL have indicated that the game on Sunday should be going ahead as planned, and Manning hopes that it will help provide a welcome temporary distraction for locals as they try to rebuild after the devastation left behind.
"I hope so," said Manning. "That might be a time when people can take a break from cleaning up their house or obviously going through a terrible time.
"Whether they can come to the game or find a TV, for a few hours they can have a little break and cheer for their home team. And hopefully we can give them a little joy and after the game they can go back to building their lives back."
Manning himself witnessed it first hand when his apartment block in Hoboken, New Jersey, was flooded in the lobby as the Hudson River overflowed due to a record storm surge.
"Saw water coming over the Hudson River and into the streets and you see very quickly cars completely covered with water," he added.
"Obviously it can be scary, the wind was blowing and the windows were shaking and you hope everything holds up and the building holds up and the windows don't crack.
"And you wake up Tuesday and the water is all gone and it is back to where it should be and you start figuring out what you are going to do the next couple of days."
Manning moved into a hotel on Tuesday after his apartment lost power overnight, and says he was shocked by the damage that had been done to the local area and feels fortunate he was able to go back into the Giants' training facility to prepare for Sunday's game.
"Once I got to the hotel, finally got power and saw some images and pictures and news about some of the tragic events and the deaths and fires and loss of homes. Whether New York and New Jersey, all over, some terrible stories.
"You send out prayers to those families and those people that are still going through terrible situations right now.
"I feel fortunate that we can come in and go to work be with our friends and teammates here and my family is safe. We are fortunate that we are here."