NFL: Houston Texans maintain top spot in the AFC with gritty win over the Chicago Bears
The Houston Texans outlasted the Chicago Bears to claim a 13-6 victory on Sunday.
Last Updated: 12/11/12 6:44am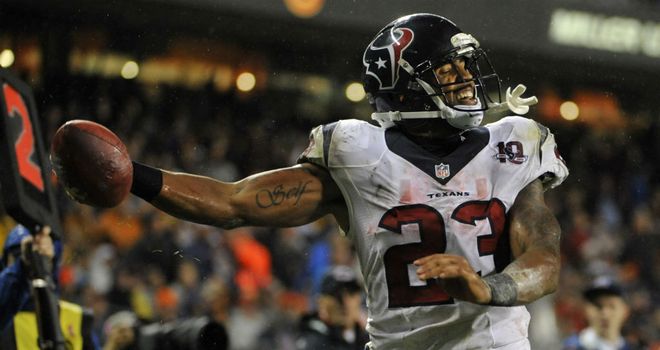 In a battle between two of the top defences in the NFL at Chicago's Soldier Field, the Texans had just enough in attack to extend their record to 8-1 for the season.
The AFC pace-setters traded blows with the Bears in bitterly cold conditions, but it was Arian Foster who went over for the crucial score.
Quarterback Matt Schaub found Foster, who rushed for 102 yards, with a two-yard touchdown pass in the second quarter - while Shayne Graham slotted over two field goals.
Schaub, though, completed just 14-of-26 passes for 95 yards - while he was intercepted twice.
Chicago's quarterback Jay Cutler endured a rougher time as he too was intercepted on two occasions and completed 7-of-14 passes for just 40 yards before his night was ended early when he was knocked out just before half-time.
Tim Dobbins caught Cutler with a driving hit, with backup Jason Campbell forced to come off the bench.
The best the Bears could manage was two field goals from Robbie Gould as they dropped to 7-2 for the season.