NFL: Overtime error proves costly for the St Louis Rams as they tie with the San Francisco 49ers
The St Louis Rams were left to wonder what could have been as they drew 24-24 with the San Francisco 49ers.
Last Updated: 12/11/12 1:21pm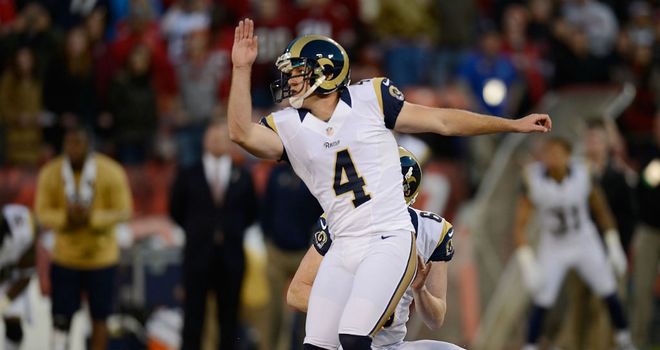 Greg Zuerlein had thought he had won the game when he kicked a 53-yard field goal in overtime - only for the effort to be ruled out as the play clock had run down.
That saw the Rams penalised five yards - and Zuerlein's subsequent effort from 58 yards sailed wide.
David Akers also missed from 41 yards for the 49ers in overtime as the NFL saw its first tied game in four years.
The last time a game in the NFL ended in a draw was back in 2088 when the Philadelphia Eagles and Cincinnati Bengals played out a 13-13 tie.
San Francisco remain top of the NFC West, though, with quarterback Alex Smith connecting with Michael Crabtree for a touchdown before his game was cut short by concussion.
Frank Gore and Colin Kaepernick also rushed for touchdowns in the final quarter, while Akers slotted over a 33-yard field goal to take the match into overtime.
Sam Bradford connected with Brian Quick from 36 yards and Austin Pettis from two yards for the Rams, while Steven Jackson rushed for a seven-yard touchdown.
"I have to say, I've been doing this a while. I don't think I've ever been in a game like this," said Rams coach Jeff Fisher. "As I told our guys, we had a number of chances to put the game away. And, unfortunately, we didn't."
49ers quarterback Smith took a hard hit in the first quarter, and was also sacked three plays later and eventually had to leave the game with what could be concussion.