Michael Turner's touchdown sees Atlanta Falcons past Arizona Cardinals
Matt Ryan overcame five interceptions to lead the Atlanta Falcons to a sloppy 23-19 win over the Arizona Cardinals.
Last Updated: 19/11/12 9:22am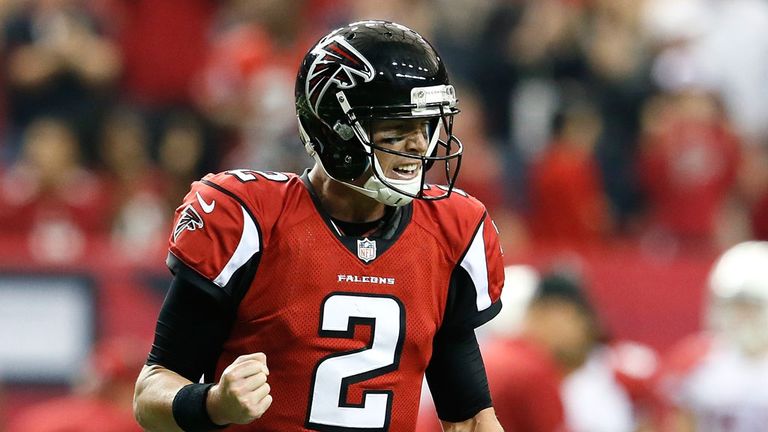 The Falcons (9-1) turned it over a total of six times, but Michael Turner scored on a one-yard run with 6:40 remaining to give Atlanta its first lead of the game.
Coming off a bye, Arizona (4-6) lost its sixth straight game. The Cardinals tried to bolster their anemic offense by switching quarterbacks, replacing John Skelton with rookie Ryan Lindley, but Larry Fitzgerald couldn't hang on to a fourth-down pass after Ryan's fifth pick.
Both teams struggled offensively in the second half. The Cardinals had the only points - Jay Feely's fourth field goal of the game, set up by Ryan's fourth interception - before the Falcons finally came alive on a 70-yard drive.
Turner carried it in after Tony Gonzalez had been held up just short, the tail-back standing defiantly in the end zone in front of the cheering Atlanta fans who had booed him for the Falcons' continuing problems running the ball.
Arizona had one more chance, after Ryan had a pass deflected at the line, the ball wobbling into the arms of Cardinals linebacker Sam Acho at the Falcons 32.
On fourth-and-two with just over three minutes remaining, the Cardinals decided to go for it. Lindley threw a pass that Fitzgerald appeared to haul in at the five as he tumbled out of bounds. But as he took a hit from William Moore, Fitzgerald rolled over and the ball came loose. The Falcons took over and ran out the clock.
Ryan completed 28 of 48 for 301 yards. The Cardinals managed only 178 yards, most of them by LaRod Stephens-Howling, who carried 22 times for 127 yards. Lindley was nine of 20 for 64 yards. Skelton was benched in the second quarter after going two of seven for six yards.