Dallas Cowboys overcome 13-0 half-time deficit to beat Cleveland Browns
Dan Bailey kicked a 38-yard field goal in overtime to give the Dallas Cowboys a 23-20 victory over Cleveland.
Last Updated: 18/11/12 11:34pm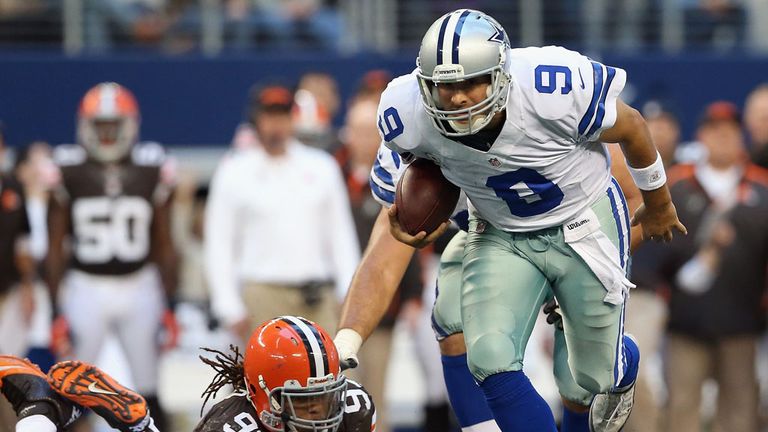 Bailey's winning kick with 6:07 remaining came after both teams punted once in the first overtime game at Cowboys Stadium. Bailey had hit a tying 32-yard field goal with two seconds left in regulation to force the extra period.
Dallas (5-5) had been forced to rally from a 13-0 halftime deficit and went ahead 17-13 on Tony Romo's 28-yard pass to Dez Bryant.
A fumble by Browns rookie Brandon Weeden on a sack appeared to put the Cowboys in control, but Romo gave it right back with a fumble on another sack.
The Cowboys made one goal-line stand in the final minutes, but the Browns (2-8) got another chance and went ahead 20-17 on Weeden's 17-yard pass to tight end Benjamin Watson.
Romo was sacked seven times but still finished 35 of 50 for 313 yards with the touchdown to Bryant, who had 12 catches for a career-high 145 yards.
Cleveland looked like the winner at halftime, but Dallas scored on its first three possessions of the second half and went ahead 17-13 midway through the fourth quarter on Romo's toss to Bryant.
The Cowboys had finally scored on a 44-yard field goal with 5:44 remaining in the third quarter, then abandoned an ineffective running game.
Romo completed passes on the first seven plays, including a 30-yarder to Bryant, before Felix Jones went the final two yards on the ground to get Dallas within 13-10 early in the fourth quarter.
Trent Richardson fell just short of becoming the first Browns rookie with three straight 100-yard games. He finished with 95 yards rushing, and added 49 yards receiving.