New England Patriots quarterback Tom Brady upset to lose tight end Rob Gronkowski
Tom Brady admits it will be a huge loss to be without Rob Gronkowski, who suffered a broken arm on Sunday.
Last Updated: 19/11/12 10:34pm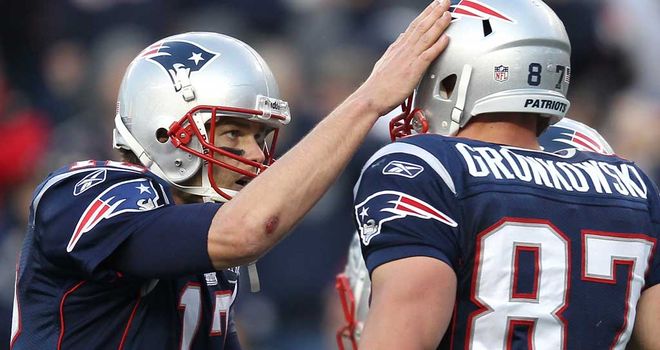 Gronkowski had two touchdowns against the Indianapolis Colts on Sunday before going down with an arm injury late in the game.
It turned out to be a fractured forearm that required surgery and means Gronkowski could be out for six weeks - meaning his regular season is almost certainly over but he could make a timely return for the play-offs.
Although he was still smiling after New England's 59-24 demolition of the Colts, Brady admitted that the injury to Gronkowski would leave a huge gap to fill.
"I knew he got injured, but I obviously didn't know the extent," Brady said on his regular spot with WEEI-FM on Monday morning.
"He's such a great player. It sucks that he gets hurt, but it's part of the game, so he's got to do his best to get back as soon as possible. We've got to go out there and win some games without him."
Aaron Hernandez has offered a great compliment to Gronkowski over the last couple of seasons, but he has not played for a month as he struggles with an ankle injury - although he could return for Thursday night's game against the New York Jets.
The Pats face their divisional rivals on Thanksgiving Day already with a three-game lead in the AFC East and looking like they have more than enough to make it to the play-offs, but Gronkowski is still a huge miss.
Brady, though, insists they have enough depth on the team to formulate a plan for their divisional foes on Thursday.
"We have some flexibility in what we do," he said. "We try to play to the strengths of our players."