NFL ban Baltimore Ravens safety Ed Reed after hit against Pittsburgh receiver Emmanuel Sanders
Baltimore Ravens safety Ed Reed has been suspended for a game without pay for a third hit on a defenceless receiver.
Last Updated: 19/11/12 10:32pm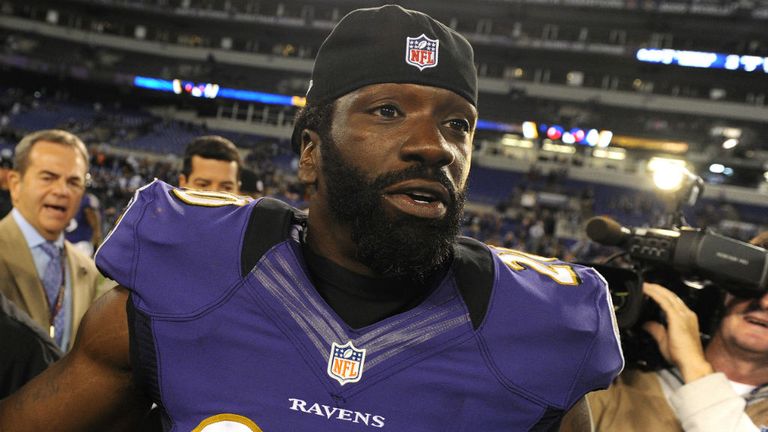 Reed was flagged for unnecessary roughness in the third quarter of Sunday night's win over AFC North rivals Pittsburgh Steelers for a hit on receiver Emmanuel Sanders.
Since it was Reed's third such transgression in the last three seasons, it has triggered a one-game suspension from the NFL, who are keen to stamp out hits on defenceless receivers as part of their player safety campaign.
Reed was penalised in 2012 for striking a defenceless player, Deion Branch, in the head area against the Patriots, and also in 2010 when the offence was committed against New Orleans Saints quarterback Drew Brees.
Reed will not be able to play against the San Diego Chargers on Sunday or attend the game at the stadium, and is also not allowed to practice or go to the team facility during his suspension, which will end on Monday November 26.
"We cannot tolerate repeated violations of rules, especially rules related to player safety," NFL spokesman Ray Anderson said. "We will continue to take the strongest possible action to deter these types of violations and protect our players."
Baltimore look set to appeal against the ruling, after being told a decision would be made this week and not result in a possible Reed ban being delayed until later in the season - most notably their week 13 rematch with the Steelers.
Ravens coach John Harbaugh was surprised to hear of the suspension when the news was released by the NFL, and insisted that none of the hits by Reed have been intentional.
"I didn't see that one coming, so it was surprising," said Harbaugh. "We all know Ed respects the players, he respects the game.
"None of those hits were intent. They were inadvertent. Ed respects the game."
Reed's is the second suspension handed out by the NFL in their crackdown on these rules, with Denver Broncos linebacker Joe Mays banned for an illegal hit on Houston Texans quarterback Matt Schaub.