NFL Thanksgiving Day: Washington Redskins and RGIII beat Tony Romo and Dallas Cowboys
Robert Griffin III enjoyed his Texas return with a wonderful display in Washington's 38-31 Thanksgiving win over Dallas.
Last Updated: 23/11/12 7:32am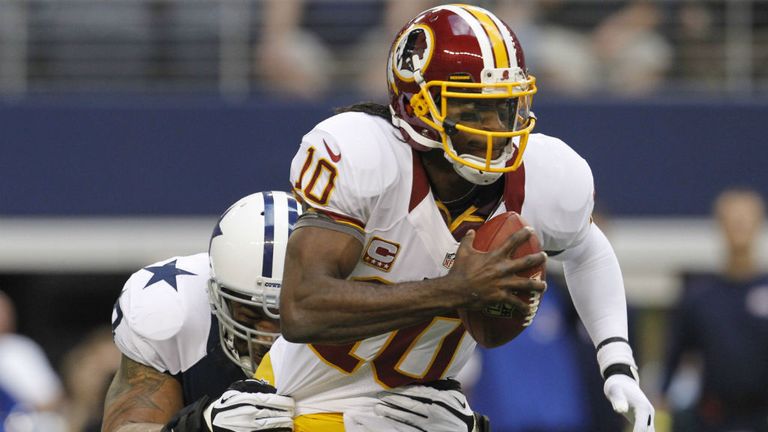 Griffin led Washington to 28 unanswered points in the second quarter at Cowboys Stadium as the Redskins ran up a 25-point lead, but the Cowboys almost rallied to come back behind a career-best Tony Romo performance.
RGIII threw four touchdown passes while fellow rookie Alfred Morris ran for 113 yards as the pair of first-year stars eclipsed the more experienced duo of Romo and Dez Bryant - who caught two TD passes.
Dan Bailey actually kicked the Cowboys into an early lead, but that was as good as it got for the home side, who failed to move the ball effectively whilst also struggling to cope with Griffin and his Redskins offence.
On the back of a superb game against the Eagles, Griffin continued his momentum as he fired a superb 68-yard bomb to the speedy Aldrick Robinson to put the Redskins ahead, and rookie rusher Alfred Morris then bagged his sixth touchdown of a fine campaign as Washington capitalised on a fumble from Cowboys receiver Dez Bryant.
Pierre Garcon then got in on the act as he showed great hands to take the catch and then great speed despite a toe injury to gallop 59 yards and put the Skins 21-3 in the lead.
With a shell-shocked Dallas chasing some points to end the half on a high, Romo threw his first interception in three games, and Griffin made him pay by finding Santana Moss with a six-yard strike to increase the lead to 25 points.
The Cowboys ran off to a chorus of boos from the home fans after a bewildering second quarter saw their divisional rivals pile on 28 unanswered points while the hosts looked unable to get anything moving whatsoever.
Bailey kicked another field goal early in the third for Dallas, but they were still frustrated until Romo's throw on the run found Bryant in-stride and he motored away for an 85-yard TD run - the longest pass for the Cowboys in 12 years.
Fourth quarter
The defence buckled again though at the start of the fourth when Griffin stayed brave to hit a wide open Niles Paul on a fourth-and-inches, and that busted coverage summed up Dallas' inability to stop the big plays.
Romo led his side again though, and Felix Jones ran through two defenders to score from 10 yards, followed by a two-point conversion from their quarterback and suddenly the tide looked to have changed.
Even more so when Griffin was intercepted for just the fourth time this season straight afterwards, and Romo took advantage by drilling an 11-yard TD to Bryant in the corner of the end zone soon after to close what was a 25-point lead into just seven.
Griffin led his team into field goal range and Kai Forbath made it 10-10 as a Redskin to give them some breathing space, and despite a late scare when Bryant almost clung on in the end zone they held on for the win.
Griffin finished the day with 311 yards passing , four TDs and one interception, while Romo had a career-best 441 and here scores, but with two costly picks as those stats failed to result in a win for the Cowboys.
Both teams left Thanksgiving at 5-6 and suddenly the NFC East is wide open with the New York Giants only a game ahead and with big problems of their own before the bye week.