NFL: Justin Tucker keeps his cool as the Baltimore Ravens overcome the San Diego Chargers in overtime
Baltimore Ravens' Justin Tucker kicked an overtime field goal to secure a 16-13 victory over the San Diego Chargers.
Last Updated: 26/11/12 9:52am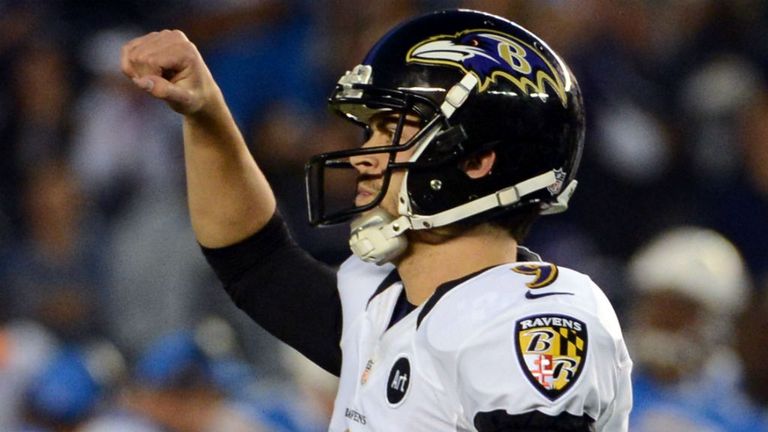 The Chargers, who now slip to 4-7, were up 10-0 at half-time before Ray Rice's superb late catch-and-run set up a frantic finale.
Baltimore tight end Dennis Pitta's touchdown and Tucker's late field goal had forced the match into overtime, after the second quarter saw Malcolm Floyd's touchdown put the Chargers in control for the majority of the match.
Nick Novak's field goal made it 10-0, with the Chargers defending resiliently throughout the first half and keeping the Ravens quarterback Joe Flacco quiet, as he completed just 8-of-16 passes for 59 yards with each of the Ravens six first-half drives ending in a punt.
However, Flacco improved after half-time completing 22-of-35 for 296 yards and after an earlier Tucker field goal had brought the Ravens back in the game, the quarterback found Pitta with a four-yard touchdown to reduce the deficit to 13-10.
The turning point in the game was Rice's brilliant play, though. After catching a short pass from Flacco, Rice then dodged past two defenders and eventually ended in the Chargers' 33 with two minutes remaining.
Controversy followed as a lengthy review moved the ball back to the 34, but the Ravens were still given a first down by the length of the ball.
Six plays later, Tucker tied the game with a 38-yard field goal to force overtime.
And then with only 1:12 remaining in overtime, Tucker coolly converted to complete a hard fought comeback.