NFL: Jacksonville Jaguars suffer another loss, this time to Miami Dolphins
Rookie Ryan Tannehill stole the show to help the Miami Dolphins beat the Jacksonville Jaguars 24-3.
Last Updated: 16/12/12 10:46pm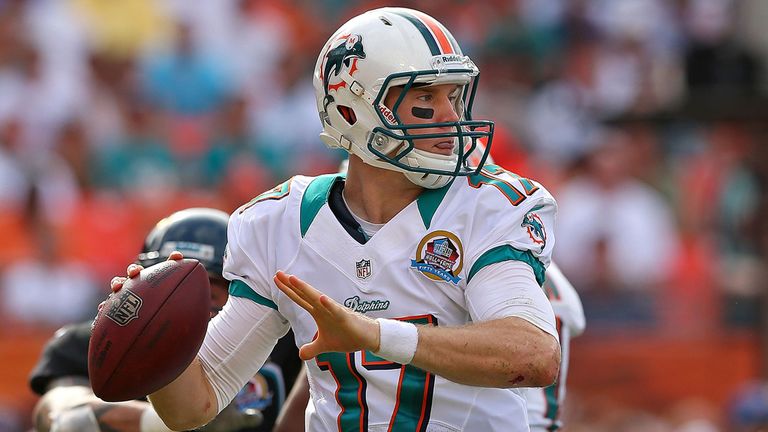 Tannehill went 22 for 28 for 220 yards and two scores with no interceptions, while he also ran eight times for 52 yards. Reggie Bush added 104 yards rushing and Dan Carpenter kicked field goals of 53, 30 and 31 yards.
Jacksonville, ranked next to last in the NFL in five major offensive categories, had the ball for just 14 minutes in the final three periods. The Dolphins' first four possessions of the second half resulted in clock-eating drives of 76, 60, 64 and 85 yards.
With the score tied, an illegal-substitution penalty cost Jacksonville a touchdown in the second quarter. Henne threw a 20-yard scoring pass to Justin Blackmon, but the play was negated because Guy Whimper had entered the game as a third tackle without reporting as an eligible receiver.
Jacksonville had another touchdown taken off the board in the final two minutes. Cecil Shorts' four-yard scoring reception was instead ruled incomplete when a replay review determined he failed to come down in bounds.
The Dolphins' first touchdown came when they converted three third downs in a 14-play, 89-yard drive that ended with Tannehill's four-yard scoring pass to full-back Jorvorski Lane.
Leading 10-3, the Dolphins tried a fake field goal at the Jacksonville five, but holder Brandon Fields' pass fell incomplete. Miami quickly forced a punt, and Bush's long run set up another field-goal situation. This time, Carpenter kicked a 30-yarder.
The Dolphins sewed up the victory with an 85-yard drive that took nine minutes of the fourth quarter and ended with Tannehill's two-yard touchdown pass to Anthony Fasano.