NFL: Running back Adrian Peterson shines for Minnesota Vikings again
Minnesota Vikings' Adrian Peterson piled up a season-best 212 yards to help his team to a 36-22 win over St Louis.
Last Updated: 16/12/12 10:56pm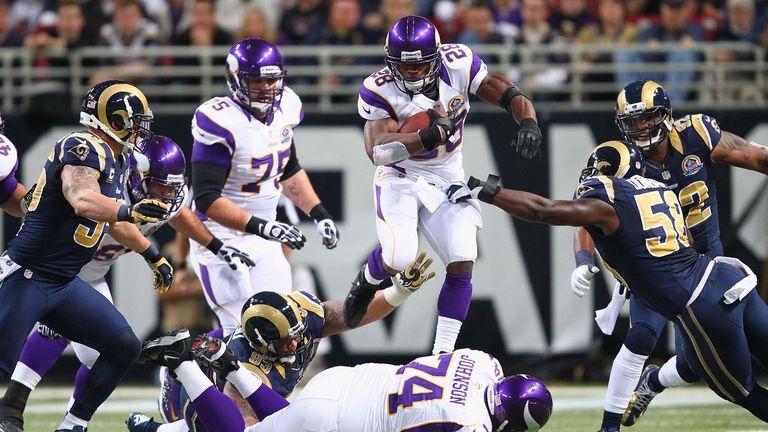 The running back has a career-best 1,812 yards rushing now for the season, leaving him 294 shy of breaking the mark of 2,105 set by Eric Dickerson of the Los Angeles Rams in 1984.
The Vikings (8-6) scored 10 of their 23 points in the second quarter off turnovers by Sam Bradford, including a 29-yard interception return by defensive end Everson Griffen.
They were up by 26 before Bradford, whose botched snap also cost the Rams (6-7-1) a field goal in the second quarter, threw touchdown passes to Danny Amendola and Lance Kendricks in the fourth quarter.
The result means the Vikings remain in the play-off picture while seriously damaging the Rams' post-season hopes.
Steven Jackson became the 15th player to rush for 10,000 yards for the Rams. He had 73 yards on just eight carries and has 909 yards on the year, keeping him on course for an eighth straight 1,000-yard season.
Peterson topped his previous single-season best of 1,760 yards in 2007 on a 52-yard run in the fourth quarter. He had already by then matched his career-long scoring run, going 82 yards to make it 14-7.
Christian Ponder had a turnover-free game and ran for the game's first score for the Vikings, who had been just 1-5 on the road with the other victory at Detroit in September. Rookie kicker Blair Walsh was perfect on five field-goal attempts, three of them from 50 yards and beyond.
The Rams stopped Peterson, held to minus-3 yards on five carries, but not Ponder on the Vikings' opening drive. Benefiting from a short field at the St Louis 45, the quarterback was 3 for 3 for 38 yards plus a five-yard scramble that put them up 7-0.