Chuck Pagano could be back on the Indianapolis Colts sideline next weekend
Indianapolis Colts coach Chuck Pagano has been medically cleared to return to the sidelines as soon as he is ready to.
Last Updated: 21/12/12 5:30pm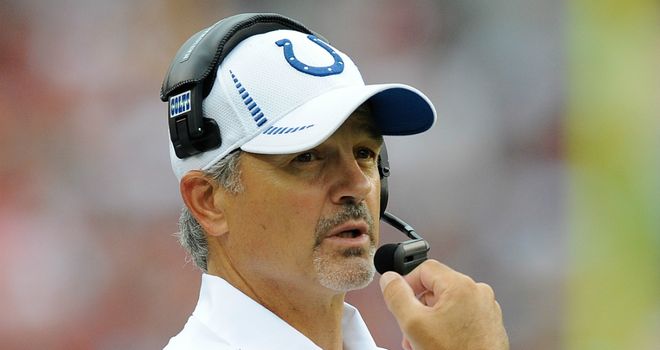 Pagano has been missing from the Colts gameday coaching crew since 23 September against Jacksonville as he was diagnosed with leukaemia three days later and has been undergoing chemotherapy since.
He has stayed in communication with players and coaches throughout his illness and occasionally turned up at practice sessions as well as speaking to the team before and after games.
They have continued to impress in his absence, and with a 9-5 record heading into the final two regular season games, they have every chance of making the post-season.
Pagano is expected to return to work at the team's complex next Monday and could even be in charge of the team in their finale against the Houston Texans on 30 December.
Colts safety Antoine Bethea said: "It's going to be crazy. It's going to be a great moment, just having him back on an everyday basis with the team, knowing that's what he really wants, back with us coaching and back on the sideline.
"Obviously we know it's going to be emotional. It's going to be a great time."