NFL: Cincinnati Bengals make play-off beating Pittsburgh Steelers at Heinz Field
Cincinnati Bengals returned to the play-offs and eliminated Pittsburgh in the process with a 13-10 win at the Steelers.
Last Updated: 24/12/12 11:33am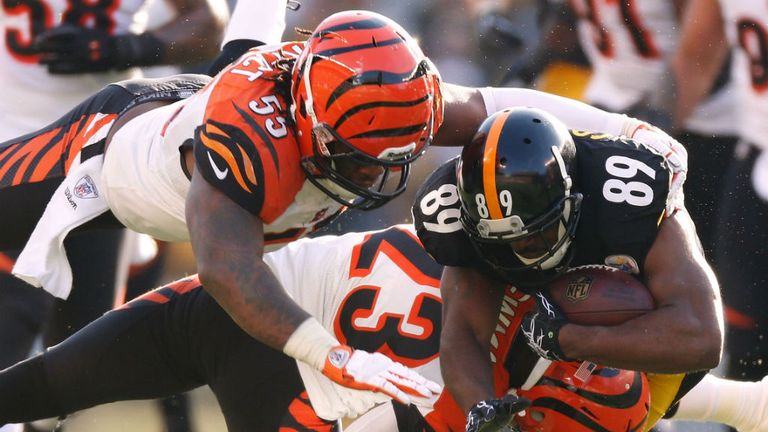 The Bengals snapped a five-game losing streak against their AFC North rivals and along with ending that dominant run they also snuffed out any chance of them making the post-season.
It was a tale of two interceptions for the Bengals, with Leon Hall taking a pick from Ben Roethlisberger 17 yards for the opening score of the game, while Reggie Nelson's late interception help set-up the game-winning field goal.
Roethlisberger had a costly interception in Dallas in overtime last week, and his over throw of Mike Wallace inside the final 24 seconds of the game cost Pittsburgh the chance to kick for the win themselves and handed the ball back to Andy Dalton.
Cincinnati's young QB hit AJ Green for a first down and Josh Brown made up for a missed 56 yarder by booting one from 43 yards in the final few seconds to seal a rare victory at Heinz Field and their most important win all season.
Brown earlier kicked a 41-yarder to make it 10-0 Cincinnati before Roethlisberger hit Antonio Brown for a 60-yard touchdown late in the first half and Shaun Suisham levelled with a 40-yard field goal.
The Bengals then tried to go ahead with Brown attempting what would have been a Heinz Field record kick from 56 yards, and Suisham also missed with his effort for Pittsburgh from 53.
Suisham had already missed from 23 yards early in the game after a low snap and bad set, and that error came back to haunt Mike Tomlin's men as Roethlisberger tried to force the issue late in the game.
Instead, Nelson popped up with the interception and then Dalton, who had two interceptions himself and no TDs, kept his cool to find his favourite receiver Green - who had 116 yards receiving on the day.
The Bengals will now take up their place in the post-season and could even be playing for the division title when they face the Ravens next week depending on Baltimore's result.