NFL: San Diego Chargers sack Jets quarterback Greg McElroy 11 times in total
The San Diego Chargers managed a franchise-record 11 sacks in their 27-17 victory over the New York Jets.
Last Updated: 23/12/12 10:34pm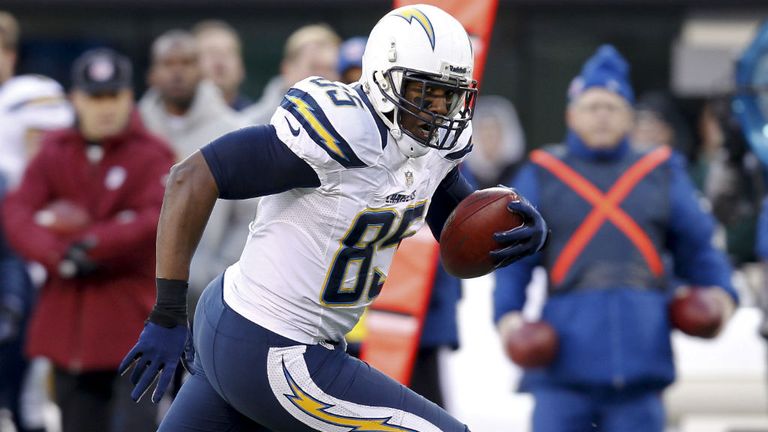 Starting in place of the benched Mark Sanchez and ahead of second-stringer Tim Tebow, McElroy faced constant pressure all afternoon in his first NFL start.
Still, the Jets were in contention with under five minutes remaining until McElroy was taken down by Shaun Phillips and lost the football.
The turnover allowed the Chargers - who set a new franchise record for sacks - to run out the clock and clinch just their sixth win of what has been an otherwise disappointing campaign.
The Jets had actually led 14-10 at half time, too, tail-back Shonn Greene twice going in on the ground from a yard out in the first quarter.
San Diego's first-half points came courtesy of a 63-yard punt return by Micheal Spurlock - the first score to come from a punt against the Jets since 2003 - and a 51-yard field goal by Nick Novak.
However, their offense stepped it up in the second half. Quarterback Philip Rivers threw a 37-yarder to wide receiver Danario Alexander to make it 17-14, then combined with Antonio Gates on a 34-yard play to open up a 10-point cushion.
The score for tight end Gates was his 82nd touchdown catch, moving him beyond Lance Alworth for the most in the history of the franchise.
McElroy - who finished 14 of 24 for 185 yards - saw a pass intercepted by Corey Lynch to set up a Novak field goal from 27 yards out, making it 27-14.