NFL: Tampa Bay Buccaneers commit five turnovers for second straight week
The Tampa Bay Buccaneers had five turnovers for the second successive week in their 28-13 loss to the St Lous Rams.
Last Updated: 23/12/12 11:17pm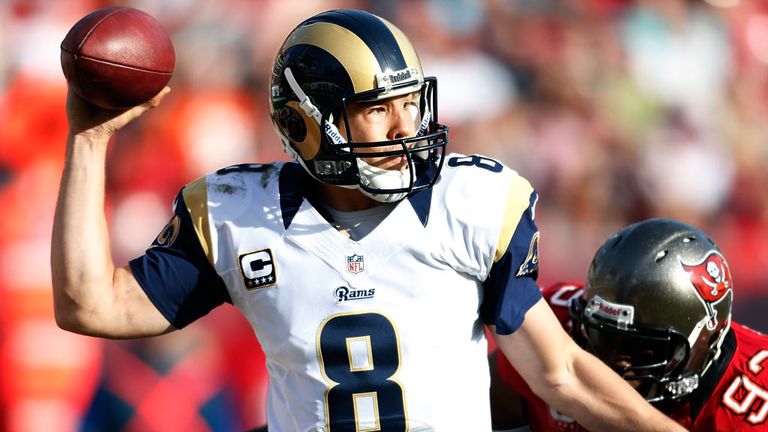 The Rams (7-7-1) intercepted Josh Freeman four times, turning three of the turnovers into touchdowns, including Jenkins' pick and 41-yard return early in the second quarter.
Steven Jackson rushed for 81 yards and one TD, moving within 10 yards of reaching 1,000 for the eighth consecutive season. The Rams can finish with a winning record for the first time since 2003 by beating Seattle next week.
Tampa Bay (6-9) turned the ball over five times for the second successive week and were stopped on downs twice inside the Rams 10 en route to its fifth straight loss.
Bradford completed 13 of 27 passes for 196 yards and one interception. He connected with Lance Kendricks on an 80-yard scoring play on the first play of the third quarter.
Tampa Bay outgained the Rams 429 yards to 285, with Freeman going 30 of 54 for 372 yards and one TD.
Mike Williams scored on a 61-yard reception and had seven catches for 132 yards. Vincent Jackson also had a big day with seven receptions for 108 yards, while the Rams limited rookie Doug Martin to 62 yards rushing on 18 attempts.
Jackson's five-yard TD run in the closing seconds of the first half finished a 65-yard drive Bradford led after James Laurinaitis' interception, and the Rams broke it open with two more TDs in the first five minutes of the third quarter.