NFL: Indianapolis Colts welcome Chuck Pagano back with a home victory
The Indianapolis Colts welcomed Chuck Pagano back to work with a 26-18 victory over the fading Houston Texans.
Last Updated: 31/12/12 6:47am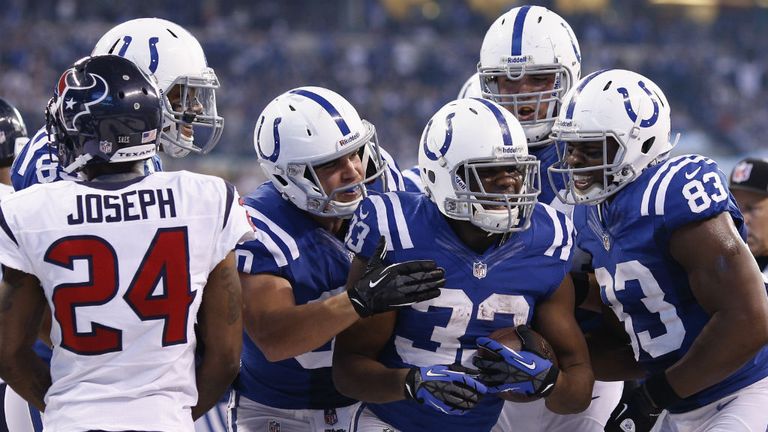 Despite already being certain of their post-season berth the Colts put up a strong display for returning head coach Chuck Pagano, who was back on the sideline for the first time since beginning treatment for leukemia in September.
The franchise welcomed Pagano with a one-minute video just before kick-off, which was followed by applause from everyone inside Lucas Oil Stadium.
Indianapolis made sure they would enter the play-offs on a winning note thanks to two touchdown passes from rookie quarterback Andrew Luck, the first of them going to tight end Coby Fleener to break the deadlock.
Houston responded with a pair of field goals from Shayne Graham, but a one-yard scoring run from tail-back Vick Ballard meant the home team were 14-6 up at half time.
The Texans cut the deficit to one when Arian Foster capped a 12-play, 84-yard drive by charging into the end zone, then the visitors edged in front thanks to Graham's third field goal - this time from 37 yards - of the contest.
However, their lead did not last for very long. From the following kick-off, Deji Karim went 101 yards, completely untouched by any Houston player, to put the Colts 21-16 in front.
Any chance of Houston rallying again disappeared with a blown coverage on a third-and-27, allowing T.Y. Hilton to get wide open.
The receiver was found by Luck and proceeded to go 70 yards to the end zone, meaning the Colts would triumph and finish as the fifth seeds in the conference. They are now certain to face the Baltimore Ravens next week.
Houston, meanwhile, fell right out of the top two spots with both Denver and New England taking the chance to move above them in the standings meaning they will have to play next week instead of enjoying a bye.
Texans defensive end J.J. Watt failed to break Michael Strahan's single-season sacks record, while quarterback Matt Schaub was picked off twice and sacked four times.