NFL: Norv Turner expects to leave San Diego Chargers after Oakland Raiders wi
Norv Turner admitted that San Diego's 24-12 win over Oakland is likely to be his last as Chargers head coach.
Last Updated: 31/12/12 7:29am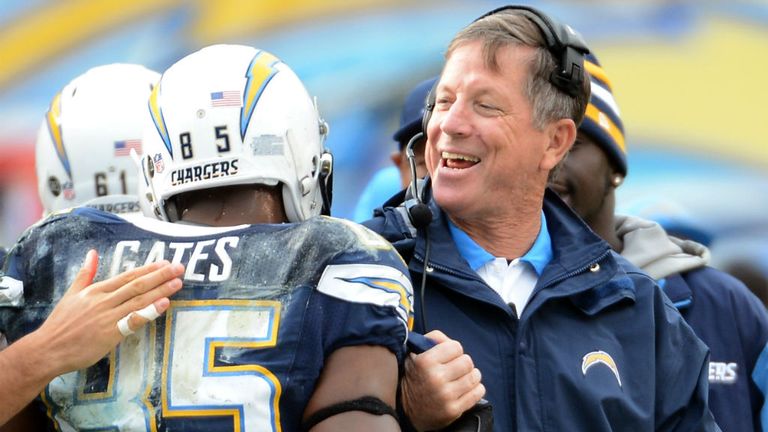 Turner admitted himself that the Chargers are likely to be looking for a new coach after a disappointing 7-9 season from a team annually picked as a play-off certainty.
However, Turner's Chargers have now missed the play-offs for three straight years and even the coach himself knows it is not good enough for him to remain in his job.
"Obviously, we're going to meet with the team and I'm sure they'll start looking for a new coach," Turner admitted.
As a send-off to the coach, Chargers' man Michael Spurlock started the game in spectacular style by returning the opening kick-off 99 yards for the opening touchdown.
San Diego's Takeo Spikes and Oakland's Mike Goodson were then both ejected in the second quarter following an angry skirmish between the two sets of players.
Terrelle Pryor started his first game as Oakland quarterback and threw for 150 yards and two touchdowns as well as running in a score himself for the 4-12 Raiders.
Philip Rivers also threw two touchdowns and was emotional after the game as he also knows it will be Turner's last game in charge after six years at the helm.
"It's tough. You've played quarterback for a guy for 102 games. That's a lot of time spent. A lot of fun, a lot of hard work, plenty of disagreements and aggravations. It's hard," Rivers said.
"Other than my dad, I don't know that there has been a coach that you've had so much respect for and trust for. Six years is a long time."