Baltimore Ravens beat Indianapolis Colts 24-9 to qualify for AFC Divisional play-offs
Anquan Boldin starred as the Baltimore Ravens moved into the AFC Divisional play-offs with a 24-9 win over Indianapolis.
Last Updated: 06/01/13 11:20pm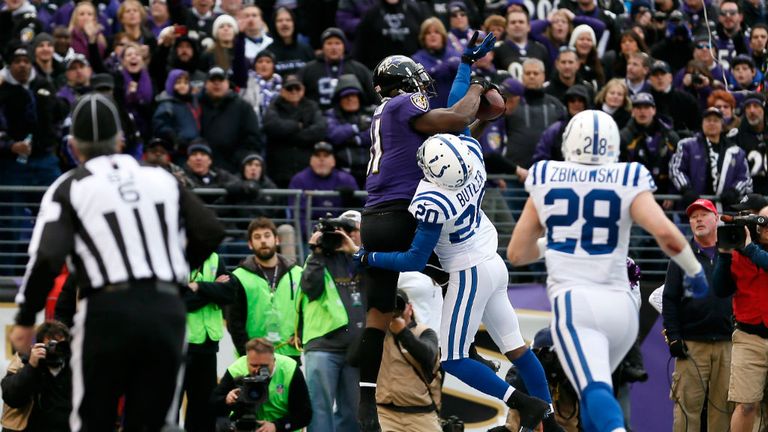 Wide receiver Boldin set a new franchise record with 145 yards receiving, including a fourth-quarter touchdown which confirmed victory, in what turned out to be a one-sided contest.
The result takes Baltimore through to a play-off with AFC West champions the Denver Broncos next weekend.
It was a disappointing end to an impressive run of form from the Colts, who had made it through to the wild card game just one season after finishing with a league-worst 2-14 record.
The win delays star linebacker Ray Lewis' retirement for at least another week as Baltimore (11-6) heads to Denver next Saturday - a team they lost 34-17 against three weeks ago.
Lewis even lined up at fullback for the final kneel-down in his last home game of a 17-year career, then went into a short version of his trademark dance before being mobbed by team-mates.
Record for Flacco
The victory also means that Ravens QB Joe Flacco now has won at least one post-season game in all five of his pro seasons - the only quarterback to do so in the Super Bowl era.
His main target on Sunday was Boldin, who had receptions of 50 and 46 yards, plus his 18-yard TD on a floater from Flacco in the corner of the end zone with 9:14 to go.
Baltimore overcame the first two lost fumbles of the season by Ray Rice, too, as back-up halfback Bernard Pierce rescued Rice with a 43-yard burst that led to Boldin's touchdown, and ran for 103 yards.
Flacco also connected with Dennis Pitta for a 20-yard TD and rookie Justin Tucker made a 23-yard field goal.
The loss ended the Colts' turnaround season in which they went from 2-14 to the playoffs in coach Chuck Pagano's first year in Indianapolis (11-6). Pagano missed 12 weeks while undergoing treatment for leukemia and returned last week.
Indy's only points came on three field goals by Adam Vinatieri, from 47, 52 and 26 yards. Reggie Wayne had 108 yards on eight receptions and moved into second in career playoff catches with 91 - only 60 behind leader Jerry Rice.